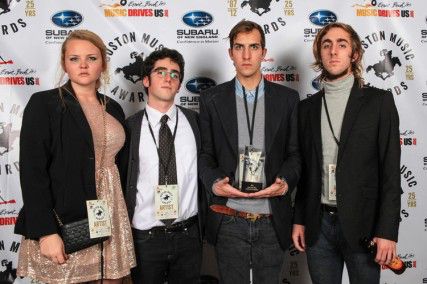 With a revamped website that went live a week ago, and an audience that has doubled over the past year, the Allston Pudding music blog has distinguished itself for more than its silly name.
Allston Pudding was named Boston's Best Music Blog the past two years at the Boston Music Awards. And its redesigned site might warrant a third award.
New features include an upcoming shows page, a musical news section, video content and a "heating up" feature that offers music of the hottest underground bands.
The founders are marketing the blog more heavily. And, perhaps most importantly, they are writing about more bands in more venues, and even considering branching out to other cities.
"The blog could one day even expand to other cities, but we have a lot of work to do at home first," Daniel Schiffer, a co-founder said.
Allston Pudding began in November 2010 when Perry Eaton, Daniel Schiffer and Jarrett Carr — three Boston University students — felt as if they had passed through the first half of college with no substantial accomplishments.
"We were kind of having a mid-college crisis or slump," Eaton said. "And we wanted to start something completely our own."
All three founders were living together, and decided to combine their skills and passions into a blog. Eaton had his own small music blog and a love of writing, Carr was a talented graphic design student and Schiffer was in the School of Management and had a publicity perspective.
"It was the three powers combined that launched it," Eaton said.
Carr quickly hacked away a website on Tumblr, and Allston Pudding went live.
"We ended up with something that was admittedly heinous," Carr said about the first site, which has since gone through two full redesigns.
Still, with a page to post content, the writing began. The blog publishes varying content, most frequently live music
reviews.The blog also features opinion, interviews and show previews.
Allston Pudding also releases local music in free mixtapes that are released monthly and hosts shows where local bands perform.
Carousel, a poppy band of former Berklee School of Music students, was written up in Allston Pudding in the band's infancy.
They have since moved to Brooklyn, N.Y., produced two EPs and have begun to tour nationally.
"It was great being covered by them early on," said band member Kevin Friedman in an email. "They were one of the first blogs to check us out. Allston Pudding really introduced us to the underground Boston music scene we know today."
The underground Allston music scene, a mix of grungy garage punk and psychedelic rock, has been the main subject of Allston Pudding content.
But Schiffer said the blog is consciously trying to branch out of this one scene.
"There is a ton of music in Boston that we want to start covering going forward," he said. "There's a great hip-hop scene we haven't
tapped into. That's our next frontier."
The blog started out with three founders contributing work, but has grown to about 30 writers and photographers who produce all the content.
No one is paid, unless you count the free tickets given to cover shows. The founders, who are not paid, said they started the
blog to see free music shows, and that it is still payment enough.
"As much as I'd love it to be, the blog is nothing that's going to pay the rent, at least not yet," Eaton said. "It just may always be a
labor of love, which is something I'd be perfectly fine with."
Going forward, Eaton said the blog will not break its allegiance to local music. "Our priority and our allegiance is to Massachusetts music," he said. "But, I think going forward we see it as a benefit to these local artists to put them on the same platform and mention them in the same breath as the buzzed-about, nationally touring bands."