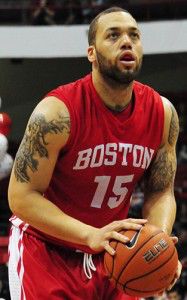 DURHAM, N.H. – On Saturday afternoon, the Boston University men's basketball team was able to rebound from a painful loss and beat the University of New Hampshire, 69–59.
After losing 75–48 to Stony Brook University last Tuesday, BU (9–10, 3–3 America East) was up against a less daunting opponent in the Wildcats (4–13, 0–5 America East). Going into the meeting, the Wildcats were in the midst of a seven-game losing streak.
At first, things did not seem to be going in BU's favor, as New Hampshire won the tip and immediately got the ball to one of its best players, forward Patrick Konan. Konan tried a layup and was denied, but he got his own rebound and scored.
Junior forward Dom Morris, who has finally begun to produce consistently in the paint, was able to tie up the game with a layup of his own.
After Morris' layup, UNH and BU exchanged shots for the first 15 minutes. The Terriers were ahead the entire time, their lead fluctuating between two and five points.
At 14:49 in the half, the Wildcats only trailed 23–21, but BU's sharpshooters made sure their lead did not disappear.
First, sophomore forward Malik Thomas hit a jump shot, which he immediately followed up with a block on New Hampshire forward Ferg Myrick. Thomas' block led to a fast break by the Terriers, and junior guard DJ Irving found junior forward Travis Robinson open for a 3-point attempt, which he sank.
Within a matter of minutes, the Terriers were able to turn the two-point lead into a seven-point lead. They headed to the locker room at halftime ahead 31–24.
BU began the second half right where it left off. In the first eight minutes, the Terriers were able to extend their lead to 16 points.
After a 3-pointer by Irving, New Hampshire called a timeout in an attempt to regroup. They then cut a 16-point deficit into a seven-point deficit in five minutes.
Unfortunately for the Wildcats, freshman guard Maurice Watson Jr. hit a 3-pointer 14:04 into the final frame, and from that point on, BU kept the Wildcats under control and held on for the 69–59 victory.
The win was largely due to BU's ability to share the ball and score with players other than stars such as Irving, Watson Jr. and Robinson.
Morris, who is emerging as one of the team's top players this season, played a fantastic game, scoring 18 points and grabbing four rebounds.
"Outside those first three games, [Morris has] taken a big step," said BU coach Joe Jones. "He did a great job."
Morris said he was happy with his big offensive performance.
"I just came in with a clear head [and] played hard knowing we needed a road win," Morris said. "I just left it all out there on the court. I felt that I had to step up and be a bigger offensive threat."
Thomas also played a significant role in the Terriers' victory. He played a well-rounded game, recording 11 points, four rebounds, three steals and an assist.
"Malik Thomas played well, with a lot of energy," Jones said. "That really helped us, got us going. We felt that Malik needs to be the x-factor for us, and we … talked about the kind of things he could do to have a bigger impact on the game."
Jones said he was pleased with the victory, which ended a three-game road losing streak.
"It was a great bounce-back game for us," Jones said. "We obviously got drilled earlier this week and I was really interested to see how we'd respond to that. We did a very good job of that, coming on the road and getting our first [conference] win [on the road]."