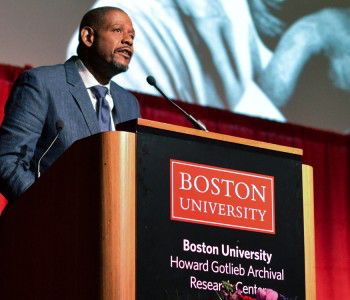 Before an audience of about 1,000 people Monday, the Howard Gotlieb Archival Research Center at Boston University honored actor Forest Whitaker as a Martin Luther King Fellow Monday to recognize his humanitarian work.
After being honored, Whitaker spoke to the audience in Metcalf Hall on King's legacy and the importance of fighting for equality.
"Without Dr. King's fervor, dedication and passion our country would be in a different condition," Whitaker said in his speech. "Without his efforts we would not be the same as we are today; without his seemingly lofty idea of justice through non-violence our nation may still be as divided today as it were when he was born."
Whitaker, an award-winning actor, director and producer who won an Academy Award for his portrayal of Ugandan dictator Idi Amin in 2006's "The Last King of Scotland," said King's dream is still relevant in today's society.
"This progress did not happen overnight or by accident," Whitaker said. "It happened because of people like him who dared to turn an ideal into a reality, to persevere in turbulent times, propelling us into greater times."
Whitaker said he chooses roles in his career that highlight the social injustice in the world and increase social awareness.
It is essential for people to find fulfillment in their lives, he said.
"A little advice: go out into the world and find what you are truly passionate about," Whitaker said. "Find what that is and just follow it. Never mind that it may be crazy. Never mind that it may be far-fetched. Never mind that there may be competition, just keep the dream alive inside yourselves."
Whitaker has been a Goodwill Ambassador for Peace and Reconciliation for the United Nations Educational, Scientific and Cultural Organization since 2011, he said in his speech. Whitaker also furthered his humanitarian efforts in 2012 by founding the PeaceEarth Foundation, which focuses on his dream to achieve peace.
Ryan Hendrickson, the Assistant Director for Manuscripts at the Gotlieb Center, said the MLK Fellowship is awarded to individuals who promote activism and leadership.
"The Director [of the Gotlieb Center] looks for somebody who has some kind of essential contribution to make some kind of effort to help other people or change other people's lives," he said. "This year we [chose] Forest Whitaker because of all the humanitarian work in Africa and other places in the world."
Since 2008, the Gotlieb Center has recognized Christine King Farris – MLK's sister – Paul Rusesabagina and Georgia Rep. John Lewis as MLK Fellows.
Hendrickson said Whitaker was a natural fit for the MLK Fellowship.
"Forest Whitaker is one of those rare individuals who embodies [MLK's] dream and is a courageous leader in his own right, which is why we recognize him on this important day," said Hampton Fluker, a College of Fine Arts senior who introduced Whitaker at the fourth MLK Leadership Lecture Monday.
Fluker said Whitaker embodies King's selflessness while staying alive in the world.
"I think selflessness and being truly aware is what makes a great artist, I also believe it is what makes great people," Fluker said. "This trait was in MLK and honestly I feel it is in Forest Whitaker."
Students who attended said they found his speech inspirational, especially as Monday was U.S. President Barack Obama's second inauguration.
"It was inspirational of him to tie everything back together and show how relevant everything still is today through his whole connection to dreaming," said Mary Lynne Detoni-Hill, a College of Communication junior.
Detoni-Hill said while Whitaker is one of her favorite actors, she was unaware of his humanitarian role.
College of Arts and Sciences sophomore Sidhanta Mehra said Whitaker's position in the industry as well as in the world as an actor just gives him a better platform to make people aware of what is going on.
"He made us think about what there is to do in society for students, especially my age, who can definitely work with other students and the resources the university provides to make that tiny, little difference he was talking about," Mehra said.
Casi Kadangs, a School of Public Health graduate student, said she was fascinated by Whitaker's speech.
"I liked how he shared stories about his life and the challenges he had to go through, and how he's worked hard to never let his dream die," she said. "I just felt very inspired by all the work he's done around the world and in the country."
CORRECTION: The article initially stated about 400 people attended the ceremony. However, it is reported about 1,000 people attended. The article has been updated to reflect the correction.