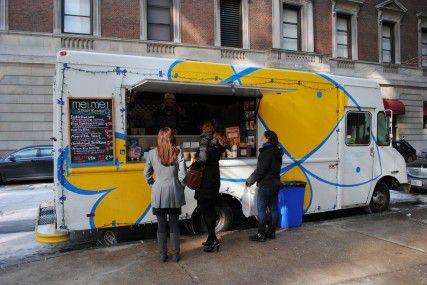 One of Boston's own food trucks placed third out of 18 nominees in a nationwide competition held by Mobile Cuisine to select the Rookie Food Truck of 2012.
Mei Mei Street Kitchen, owned by siblings Mei, Adam and Irene Li, was the only truck to represent Boston in the contest, in which readers were polled to select their favorite food truck.
"We are so honored to receive a nomination," Mei Li, co-owner of Mei Mei's, said. "We found out that we made the short list and that went to show just how many people supported us."
Crazy-Good Burgers in Morristown, Tenn. received 19.1 percent of the votes and took first place in the poll. Ice-Cubed in Chicago came in a close second with 18.7 percent of the vote, and Mei Mei Street Kitchen received 11.1 percent.
In 2011, the winner of the contest was Staff Meal Food Truck, another Boston-based truck.
Li said she was happy about following in Staff Meal's footsteps.
"Obviously it would have been wonderful to win, but we are amazed at how many people voted for us," she said. "More and more food trucks are opening, so it gets harder and harder every year. There is more competition, and just even to be a part of it, we are really happy."
Boston Mayor Thomas Menino tweeted on Jan. 17 to encourage followers to vote for Mei Mei Street Kitchen in the contest.
"It is really awesome that we had a strong social media aspect and had Mayor Menino send out a tweet supporting us," Li said. "We had a lot of Boston food people show their support, and it was fantastic to have the city rally around us."
Some supporters of the food truck said they are not surprised that Mei Mei's placed so well.
"I expected them to do well," said Amir Soltanian, a Boston University College of Engineering freshman. "It is a good place, good food, good service — just great all around."
Ari Farrell, a College of Arts and Sciences sophomore said Mei Mei's food is some of the best in the city.
"It's [the award] totally legitimate. It is one of the best food trucks I have ever been to and it's all around-great," Farrell said.
Other people said they are amazed at how well Mei Mei's has done in its first year.
"To see how much they have grown in such a short amount of time is amazing," said Rochelle Li, a Sargent College of Health and Rehabilitation Sciences sophomore. "Not a lot of restaurants have success that early on. They are constantly motivated to bring out the best food that they can and that is reflected on the awards they have
won."
Michelle Stolzoff, an ENG graduate student, said the owners of Mei Mei's are very friendly and make her want to come back again.
"The owners and people who work the food truck are very cheerful and helpful," she said. "It's nice that, even when they're extremely busy, they're able to chat and joke with you as they're preparing your food. They even try to remember the names of their regulars."
Rochelle said the owners' friendliness is what makes Mei Mei's superior to other food trucks in the area.
"One of the main things that makes them stand out is that they are so friendly and willing to have a conversation about anything," she said."They are the nicest people ever. It's like coming up and saying hi to family."
Soltanian said the unique food at Mei Mei's is another reason why the truck did so well in the contest.
"I like that it has traditional Chinese items with a modern twist," he said. "They have a very unique take on more traditional food."
Mei said Mei Mei's is looking to open its own restaurant in addition to the food truck.
"We love our food truck, but something that is still tentative and upcoming is looking to get a restaurant," she said. "It is hopefully going to be near BU South Campus and we would like to be open before next school year."