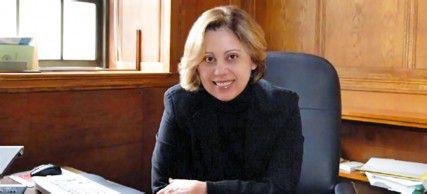 New Metropolitan College Dean Tanya Zlateva spent her first week of the fall 2013 semester meeting with department directors and developing new educational tools and curricula to offer the best education possible through MET, she said.
"It was actually pretty wonderful to see how many people had ideas of how we can do things better, what we should keep, what we should change," she said. "I had a pretty good week I have to say, except for catching the flu."
Former MET Dean Jay Halfond stepped down in December to focus on teaching after 12 years as dean. Zlateva, who was a MET associate professor and associate dean for academic programs, took over as interim dean on Jan. 1.
"I think that I am speaking for all MET faculty members when I say the administration's decision to ask Tanya to run MET is an excellent solution for the problems of MET future development," said Victor Shtern, a professor of computer science in an email.
Zlateva said as dean, she intends to further develop and maintain MET by adapting to the changing technology of the times, such as online degree programs.
"My immediate plan is to continue and to reinforce and to further develop the role that Metropolitan College has played to make it interesting to faculty, to experiment with ideas, and to the public to be able to get access to research and education," she said.
Zlateva said she will follow in Halfond's footsteps, as she worked closely with him during her six years as associate dean.
"My goal is to continue developing the college, there is nothing in the past of the college I would say was a problem," Zlateva said. "We just have to continue with the momentum."
Zlateva received her bachelor's, master's and doctorate degrees at the Dresden University of Technology, she said. She later immigrated to the United States with her two children and built a career at BU.
Her expertise is in computer science, specifically parallel and distributed processing, visual perception and cyber security, she said. As a faculty member, Zlateva developed new courses and programs for the computer science department.
Her teaching abilities and organizational skills earned her a promotion and, in 2001, she replaced Eric Braude as the department chair.
"She took the department to new heights, especially by gaining it recognition as a center of excellence in computer security education and by ushering it into distance education," Braude said in an email.
Since 2006, Zlateva has served as MET associate dean of academic programs. She is also the founding director of BU's Center for Reliable Information Systems and Cyber Security.
"Over more than a decade, she had been at the front line of the online education efforts at BU, first by introducing the online MS in Computer Information Systems in 2004, and then, as associate dean, by overseeing all the academic online programs at MET, which represent more than 80 percent of all the online programs at BU," said Lou Chitkushev, chairman and associate professor of MET's computer science department.
Chitkushev said Zlateva is an ideal choice for interim dean after 22 years of experience with MET.
"She has gone through all the academic and administrative ranks at MET and her impeccable record as a faculty member, chair and associate dean makes her an ideal candidate for this position," Chitkushev said. "She understands very well the needs of MET and has a proven record as an administrator, with a strong support from both faculty and staff."