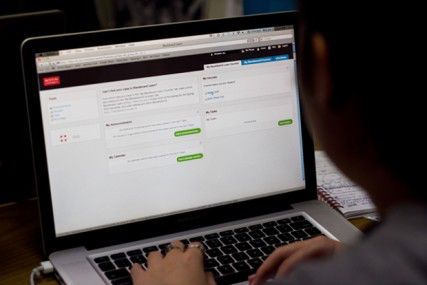 Several Boston University students and faculty said they are having difficulty adjusting to Blackboard Learn — the new online educational resource that connect students and educators — as the transition interferes with sharing documents for classes.
Kento Okamoto, a School of Management junior, said his professors have struggled to connect with their students on the new software.
"In both of my economics classes, I have had some trouble getting [documents] online," he said. "Some people couldn't see the syllabus or even download homework assignments, so there must be a technical difficulty going on."
Okamoto said if the technical difficulties become a consistent problem, Informational Services and Technology should return to the old Blackboard 8.0 and make the system change while the academic year is out to organize the new system and remove bugs.
Blackboard 8.0 will be phased out by fall 2013 so IT began transferring classes to Blackboard Learn, said Executive Director of Educational Technology, Training and Outreach for Information Services and Technology at BU, Domenic Screnci.
"Blackboard 8.0 was going away [by fall 2013] and so we had to deal with that," Screnci said. "[Blackboard] 9.1, was more of a web 2.0 environment that had many of the features the older system didn't have that represents more of what a contemporary web experience will be."
Karen Warkentin, a biology professor, said she had no problem with Blackboard 8.0, but the new system seems to be working fine.
"Every time there is any change there is a learning curve and people don't like it at first," she said. "There are some things that seem like it could be easier than the old site, but I find it easier moving things around and organizing myself on the new site, so I will get used to it soon."
Warkentin said it is too soon to see a major flaw or difference in the new interface, but she has been able to adjust well.
"The old Blackboard had what you needed, but it was more difficult to use and not as good as the new one," said Ashley Gallicchio, a College of Communication freshman. "The new one is faster when you're downloading documents. It's exactly what you would expect from a university website."
Gallicchio said she has not used Blackboard Learn extensively, but from what she has experienced and what her professors are saying, people grow more comfortable with greater usage.
"From what I have heard some people have had difficulty getting their assigned readings," said Madeleine Work, a College of Arts and Sciences sophomore. "Not all the things they need are posted so they can't access certain things."
Work said problems likely are not caused by the website or IT.
"I do like it more than the old Blackboard, but I don't think it is worth the effort of switching over," she said. "Some of my professors have said it's more difficult to use and they have technical difficulties."
Screnci said he has worked extensively developing the new website.
He said IT receives significant amounts of feedback, especially for new services, and he has not come across a specific, recurring problem with the new interface.
"The general feedback is that it has been pretty reliable and consistent," Screnci said. "We have had no particular bad feedback."
Because the upgraded Blackboard 9.1 is different, many people are not comfortable with the new interface and they do not know how to navigate it yet, Screnci said.
He said two outside events that affected power to servers caused the only major problems IT has faced.
"The explosion that happened on Commonwealth Avenue created issues for us," Screnci said. "Wednesday we had a brief outage that created a little bit of a problem for us, but they have been addressed and things have been stabilized."
Screnci said with any change comes a learning curve.
"It's a new environment with a whole new look and feel," Screnci said. "Our goal in this process was to create a baseline where faculty would make the transition easily, but any change often-times brings anxiety."