I was slightly apprehensive waiting in line to see Ra Ra Riot and Guards at the Paradise Rock Club on Saturday night.
Not because I thought the coat check would fill up (it did). Not because I thought I was going to get stuck behind the prodigal obnoxious indie rock couple whose mere existence seems like an offensive joke from the universe (I did). Not even because I would have to wake up early the next day to write the review (I didn't). No, I was apprehensive about watching a band who just sounds so very … twee.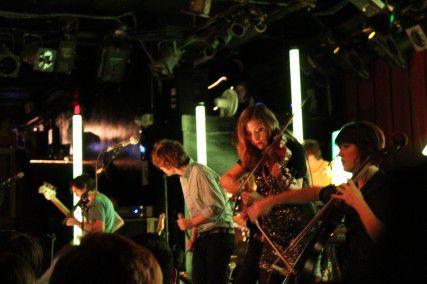 Ra Ra Riot landed on the scene with 2008's critical success, The Rhumb Line, right around the time bands like Vampire Weekend and Passion Pit released their debut works. Suddenly, the indie rock scene felt chock-full of boyish falsettos, buttondown shirts and quirky arrangements that made you look really cool if you had it on your iPod. It seemed like the height of cerebral indie pop, where little ditties about Cape Cod were the hipster's jam and oh my gosh, you have a string section in your indie band?! So neat.
Don't let my overwhelming negativity fool you, though — the night was full of surprises. Guards warmed up the full-to-capacity Paradise with a tenacity that usually accompanies veteran headliners, not bands that have yet to release a first
album. Singer Richie Follin whipped the crowd into such a frenzy with the band's brand of lo-fi indie rock, that I was worried Ra Ra Riot's set would be a come-down.
Once again, I was wrong. Aptly enough, the band walked onstage as Billy Joel's "It's Still Rock and Roll To Me," played. Lead singer Wes Miles immediately drew the crowd in with his earnest falsetto on 2008's "Run My Mouth," then proceeded to wind his way through old beloveds like "Shadowcasting" and "Can You Tell," before ending the set with an encore that peaked during "Dying Is Fine" and had even the most offensive hipster dancing.
Miles & co. also borrowed heavily from their new album, Beta Love, out this week on Barsuk Records. Although both Spin and Pitchfork lambasted the album as a step in the wrong direction for the band, new tracks like "Dance With Me," "Binary Mind" and "Angel Please" held up extremely well in a live setting. Beta Love marks a departure for the band from their baroque pop origins and an introduction of more traditional pop structures, bigger choruses and better beats.
Before Beta Love, it always seemed to me that Ra Ra Riot rested on the laurels of its reputation as the indie band with the string section, but the evolution of its signature sound shows the group has the potential to be much more than that. Sure, it's not a perfect album, but Beta Love, combined with the infectious energy of their live act, certainly seems like a promise of what's to come. Your move, Vampire Weekend.