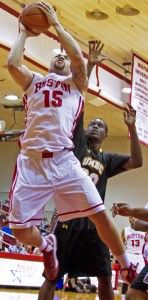 The Boston University men's basketball team defeated the University of Maryland-Baltimore County 81–75 Saturday afternoon, but did not walk away without some criticism from its coach.
"No matter what you try to do, when you're a coach, and every coach feels this way, You're telling your team they've got good players, don't think about their record, they played this team tough, they played that team tough, they do a good job, they listen to their coach," said BU (11–10, 5–3 America East) coach Joe Jones at the beginning of his news conference.
"No matter what you say, I think there's going to be some times where coaches just feel like kids just have a hard time of understanding the importance of doing things correctly and with energy day in and day out," Jones added. "This was a complete example of that, we came out flat, with no energy right from the start."
He was correct in stating that his team came out flat at the beginning of its contest against the Retrievers (4–16, 2–5 America East).
UMBC won the tip off, went down court and scored easily. Right after that, the Terriers were careless on the inbound, turning the ball back over to Retriever guard Quentin Jones who dished it to forward Adrian Satchell for an easy layup.
BU's struggles continued as junior forward Dom Morris missed a layup on the ensuing possession, which was followed up by UMBC forward Chase Plummer hitting a 3-pointer on the other end to open up a 7–0 lead for the Retrievers to start the game.
The Retrievers would continue to outplay the Terriers throughout the first half.  With 7:09 remaining, they held their largest lead of the game, ahead of BU 25–15.
But at that point BU woke up and started to play at the level of basketball it had been showing throughout the season. The Terriers went on a 16–7 run to get back in the game and close out the half as they only trailed by one going into the locker room, with a score of 32–31.
The Terriers' ability to get back in the game came from some impressive rebounding and scoring by Morris, who had 13 points and eight rebounds in the first half.
"I thought when they got offensive rebounds and got inside, they did what good players do, they finish plays," said UMBC coach Aki Thomas. "We weren't happy about it. More so, I noticed in the first half Dom Morris was able to get his hands on some stuff and finish plays."
For the majority of the second half, the game was up for grabs. Both teams exchanged and extended leads, but the score would ultimately tie back up once again.
It was not until the final eight minutes that this back–and–forth game ceased and the Terriers took control.  After a layup by junior guard D.J. Irving, BU took a 59–57 lead, which they would not relinquish for the rest of the game as they went on to defeat UMBC 81–75.
The victory was by no means a typical BU win.  The Terriers, who heavily utilize the 3-point shot in their game plan, were only 4-of-19 from long range, not being able to hit any until the second half.
To make up for the lack of threes, BU relied on working the ball down low, outscoring UMBC 46–26 in the paint. This production came from BU forwards sophomore Malik Thomas, freshman Nathan Dieudonné, and Morris, who combined for 40 points.
Six Terriers scored double-digit points on the game.
Jones will look to get his team back on track after almost dropping this game. BU will travel to the University of Hartford next to take on another America East opponent on Saturday at 7 p.m.