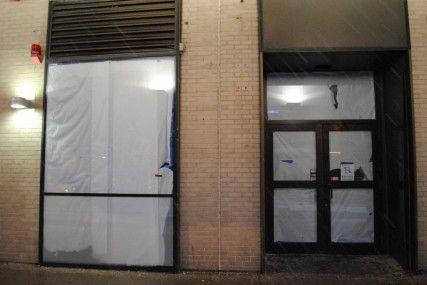 Originally slated to open during the fall 2012 semester, Boston University's new Jamba Juice will now open in the spring 2013 semester after delays in construction and planning, officials said.
"We are anticipating opening Jamba Juice in March," said Scott Rosario, BU Dining Services marketing director. "We're hoping for early March, but it will definitely be in March."
Rosario said there were delays in attempting to fit Jamba Juice into the space formerly occupied by Olecito at the base of Warren Towers.
"Construction has been going on as soon as the permitting is done," he said. "It's been based on what permits are done and when pieces of construction could be done. There has been some delay in the design, originally, and then there was some delay in getting the permits done."
Rosario said work must be done to add proper equipment and develop the space to meet the design requirements of a Jamba Juice.
"Part of the design process is fitting the Jamba Juice brand in there, laying everything out so it looks like a Jamba Juice store and not an Olecito store," he said. "There are specifics to the brand as far as the equipment that's used, whether refrigeration requirements, or the flow of the store from where the guest enters, where they place an order and where they go."
During the summer of 2012, the Jamba Juice in the George Sherman Union closed to be replaced by a Pinkberry and to add space to the GSU Starbucks. Officials planned to move Jamba Juice to 700 Commonwealth Ave. and have it replace Olecito.
"There were a couple of projects all happening simultaneously and they all impacted the space that was available," Rosario said. "When looking at the Olecito space, trying to figure out what would fit there, we decided obviously we're not going to put Starbucks there since we already have Starbucks at 700 [Commonwealth Ave.]."
The decision to replace Olecito was made partially due to the high number of quick-service Mexican restaurants on or near the Charles River Campus, including Qdoba and Boca Grande Taqueria in Kenmore Square and Chipotle at 876 Commonwealth Ave., Rosario said.
"Jamba Juice has a great following at BU, as well as in the population, so it's a brand we didn't want to part ways with," he said. "When we looked at what space we had and what brands are the most popular and what brands are the best fit, Olecito was the odd man out."
Rosario said all students will have employment opportunities at the Warren Jamba Juice.
"Dining Services is one of the largest, if not the largest, employers of students on campus," he said. "We already have some students that worked at Jamba Juice here in the GSU that are interested in still continuing to work at Jamba Juice, so there will be a hiring process once we get closer to our opening day."
A number of students said they are eager for Jamba Juice to open after confusion about the grand opening date.
"It said 'coming fall 2012,' and then it never came," said College of Engineering sophomore Emily Cyr. "It's frustrating, I really like smoothies and it would have been nice to come at the end of fall, especially when it was warmer. March is a rough time to open because no one says 'it's cold, I could really go for a smoothie right now.'"
Crystal Taber, a College of Fine Arts senior, said she is pleased to see healthier options being offered on campus.
"Jamba Juice appeals to me more because I eat more healthy [foods] and they have yogurt and granola, and they make smoothies from fresh fruit," she said. "I don't have that much money to spend on a meal so it's a mental thing where I would rather spend a little bit of money on coffee or a drink."
College of General Studies sophomore Naoise Lane said while she is pleased Dining Services is finally opening Jamba Juice, she would like to see more focus placed on other alternative dining options.
"I'd like to see a better salad place and more vegetarian options," she said. "I don't think it [Loose Leafs] is organic."