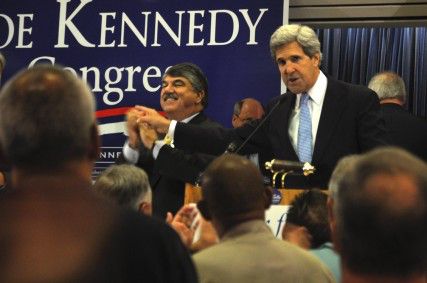 The U.S. Senate confirmed John Kerry as Secretary of State Tuesday, offering the Massachusetts Democrat the job of chief foreign minister for U.S. President Barack Obama.
The Senate voted 94-3 to confirm Kerry to the post, ending what has been a relatively smooth process after Obama's first nominee, United Nations ambassador Susan Rice, faced stiff opposition when she made confused comments regarding the Benghazi attacks in Libya that killed U.S. ambassador J. Christopher Stevens.
"John Kerry's exhaustive experience and selfless service as a veteran, a senator and a statesman will help him to step seamlessly into the role of Secretary of State," said Sen. Robert Menendez in a statement Tuesday. " I am confident that his vast experience and his relationships with the world's political and military leaders will serve the president and the nation in furtherance of American foreign policy."
Kerry was approved by a voice vote Tuesday morning by the Senate Foreign Relations Committee, a committee he currently chairs. Once voted out of the Committee, the full Senate confirmed Kerry Tuesday afternoon.
Kerry, a Vietnam veteran and Massachusetts senator for 28 years, first came on the political scene in 1971 when he testified before the Foreign Relations Committee in support of ending the Vietnam war.
His career in the Senate has been marked by work on issues of foreign policy. Kerry acted as a leading voice toward the ratification of an updated START nuclear arms reduction treaty with Russia in 2012. He voted in favor of the war in Iraq in 2002, but has since come out against it. In recent years he has also traveled to Afghanistan, Pakistan and Egypt as a diplomat for Obama.
David Palmer, a professor of international relations at Boston Univeristy, listed several major issues Kerry is likely to encounter as Secretary of State.
"Key issues Kerry will face will include Iran, continued Middle East turbulence and especially relations with Israel. [Other issues include] Muslim extremists and the almost certainty of new attacks on Western targets," he said.
Palmer also said China's continuing economic and military capacity might pose problems for the U.S.
In his testimony before the Foreign Relations Committee Thursday, Kerry emphasized that a strong domestic economy would ensure effective foreign policy.
"I am especially cognizant of the fact that we can't be strong in the world unless we are strong at home," Kerry said. "And the first priority of business which will affect my credibility as a diplomat working to help other countries create order, is whether America at last puts its own fiscal house in order."
Kerry faced a relatively warm reception from Senators on both sides of the aisle. When Obama initially nominated Kerry for Secretary of State in December, Sen. John McCain lauded Kerry's experience.
"Senator John Kerry has served our nation with honor and distinction for many years," McCain said in a statement from December. "I congratulate him on this nomination, and look forward to considering it as the Senate fulfills its responsibilities to provide advice and consent."
Every republican in the Senate voted in favor of Kerry's nomination save three — Sen. Ted Cruz of Texas, Sen. John Cornyn of Texas and Sen. James Inhofe of Oklahoma.
Mass. Gov. Deval Patrick praised Kerry's advocacy and work for the Commonwealth Tuesday, and congratulated him on his position.
"On behalf of the entire Commonwealth, I want to extend my congratulations to Senator Kerry on his confirmation as our nation's next Secretary of State," Patrick said in a statement. "In particular, I want to thank Senator Kerry for his decades of service to the people of Massachusetts."
With Kerry relinquishing his senatorial seat, a special election will take place in Massachusetts later in 2013. The Mass. Democratic party showed its awareness of this position's availability in a statement Tuesday.
"As John Kerry moves to the forefront of the world stage, Massachusetts voters will have an opportunity to choose a successor who lives up to the high standards he has set," the statement read.
Kerry will make a farewell speech on the Senate floor Wednesday, according a Kerry spokesman. He will be sworn in as Secretary of State later this week, replacing Hillary Clinton.