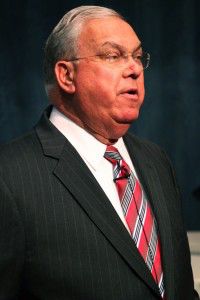 Boston Mayor Thomas Menino gave his annual state of the city address at Faneuil Hall Tuesday, surprising a number of citizens with strong rhetoric directed toward issues such as education, pay equity and gun control.
Menino made his way to the stage with the aid of a cane as the song, "What Doesn't Kill You (Stronger)" by Kelly Clarkson played in the background and viewers applauded his arrival. He began his speech by thanking all of his supporters for standing by him during his recent spell of poor health and continued by assuring all of Boston's progress.
"I stand before you a grateful mayor," Menino said. "The outpouring of concern and support was truly incredible, but the truth is those cards said more about Boston than me. They are full of pride for our city, and they should be. Because from Orient Heights to Dorchester Heights, we continue to make great strides."
Menino was out of office for more than eight weeks in two medical centers fighting a series of ailments. He was officially released from Spaulding Rehabilitation Hospital Dec. 23.
Some Boston residents said they were no longer worried about his health.
Derek Lumpkins, 38, executive director of Discover in Roxbury, said Menino's apparent strength surprised him.
"I was actually surprised by how strong he was. He delivered very well and he was very strong, very articulate," Lumpkins said. "He walked very sturdily through the halls, so no, I don't have any concerns anymore."
Patricia Amend, editor of Club Business International in Back Bay, said she no longer has concerns about Menino's health.
"He was vital, he was positive," she said. "It seems like he's back."
In his speech, Menino said education programs in the city need improvement.
"Let us stay focused on moving forward with that process and on improving quality in all of our schools," he said. "This year I will include in my budget new 'quality improvement funds.' They will support great teaching, leadership training, extended time, partnerships and upgraded facilities at our schools that need higher levels of support."
Menino said he planned to allocate $30 million to enriching schools.
He also said he wanted to make Boston the leading city for working women by launching the "Women on Main" forum to open new fields of business to women, make it easier to find quality child care and to help women negotiate for fair pay.
To the same end, Menino said he would create a Women's Workforce Council.
"Among other steps, we will make Boston the first city in the country to achieve pay equity for women, " he said. "The most powerful way to unleash a person's talent is to prepare them for a job. We have many programs and places that do this work, but we can do more."
Menino also addressed gun control.
"The most tragic loss of human potential is when it is lost to violence," he said. "Mayor Bloomberg [New York City] and I will keep working with almost 1,000 mayors and over 1 million Americans. Life-saving solutions, which have long been within our reach, are now within our grasp. Stand with us on guns and say enough is enough."
Lumpkins said he was surprised by how forceful Menino was about gun control, but glad that he took such a strong stance.
"I appreciated how forceful he was about gun control and gun violence, and also the development in the city," he said.
Gerald Robbins, 45, of Charlestown, said Menino's talk of women's pay equity was important.
"His salute to women business owners was really important, as was his women's initiative," Robbins said. "Ideally, eventually there will be a woman mayor that can run those [pay equity] initiatives."
Jennifer Johnson, 44, editor for Club Business International in Dorchester, said she was surprised by what Menino chose to address.
"He actually addressed a lot of issues that I wasn't even expecting him to address," she said. "It was really exciting to hear him talk about his initiatives for women."
But Lumpkins said he wished Menino was more specific in his plans for each issue.
"I wish he had done a little bit more in terms of thinking in specifics," he said. "I know this isn't the kind of space where politicians do that, but I would have liked to hear more."