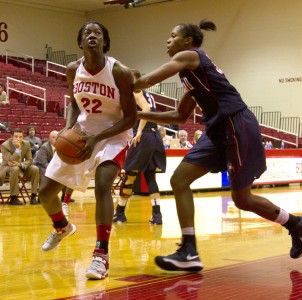 Coming off a hard-fought home loss to the University at Albany that snapped its season-high 13-game winning streak, the Boston University women's basketball team bounced back in its next game by defeating the University of Maryland, Baltimore County Retrievers, 63–49, on Saturday in Baltimore.
For BU (17–4, 7–1 America East) coach Kelly Greenberg, it was important to move on after the Albany (16–3, 7–0 America East) game.
"We hadn't lost in so long … and we hadn't felt that way in a while," Greenberg said. "It was really important for Friday, when we were heading down to UMBC, to just regroup and remember that we're really having a heck of a season, that we got to keep enjoying it and not get too caught up with just one game."
The Terriers started the game out strong with an 18–7 lead, but a 10–0 run by the Retrievers (6–14, 2–5 America East) brought them within one, 18–17, with about eight minutes remaining in the half.
After the UMBC run, the teams traded baskets for the remainder of the half, culminating in a made jumper by senior guard Mo Moran to give the Terriers a 31–30 lead after the buzzer.
While the first half was a close contest, the second half was dominated by the Terriers.
BU opened the final 20 minutes of the game with an impressive 22–4 run that gave the Terriers a 56–39 lead with less than 10 minutes remaining in the game. Ultimately, UMBC was unable to recover from the Terrier run, as BU went on to win the contest, 63–49.
Historic win for Coach Greenberg
The Terrier victory against UMBC on Saturday was also significant because it marked Greenberg's 250th career victory in 14 years as a head coach.
"It's a very nice feat to get," Greenberg said. "I guess it just makes me think of all the teams I've coached and how every team is so different and every season is so different and how lucky I am to be coaching women's basketball."
Prior to her tenure at BU, Greenberg spent five years as the head coach of the University of Pennsylvania women's basketball team, posting an 84–54 overall record and winning two Ivy League championships.
Appointed as head coach of the Terriers on July 7, 2004, Greenberg has led BU to a 166–104 record and three WNIT tournament appearances during her nine seasons at the helm.
Alford captures all-time BU 3-point record
Senior guard Chantell Alford also achieved a significant milestone over the past week, as she became the all-time leader in made 3-pointers for the Terriers with 220 in her career.
Alford, who is leading the conference in scoring at 17.1 points per game, has made the 3-ball an integral part to her game, as she leads all America East players with an average of 3.1 3-pointers per game. Alford also leads the conference in 3-point field goal percentage at 43.9 percent (65-of-148).
Terriers on pace to break America East 3-point record
One of the biggest reasons the Terriers' offense has had success this year is the team's ability to punish opponents with its excellent 3-point shooting.
BU leads the conference in 3-pointers with an average of eight per game. At the present rate, the 2012-13 BU team is currently on pace for 232 3-pointers this year, which would break the previous America East record of 223 set by UMBC in 2007-08.
Terriers racking up Player of the Week awards
While a BU player did not receive the last America East Player of the Week award for the week of Jan. 21 — that honor was given to Albany's senior forward Ebone Henry — BU players have dominated this recognition over the course of the year. A Terrier has been named America East Player of the Week seven times out of the 12 weeks in the season.
Alford leads all America East players with five Player of the Week awards, while Moran and Agboola each have received the award once this season.