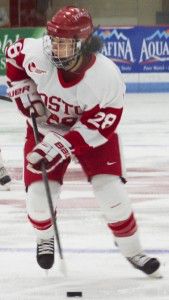 The No. 4 Boston University women's hockey team meets Northeastern University at Walter Brown Arena this Saturday before taking on the Huskies yet again in the Beanpot semifinal.
Having not suffered a loss in its last 13 games, BU (17–3–3, 12–2–1 Hockey East) coach Brian Durocher said the team needs to be careful to not become overconfident.
"Sometimes when you get on a good streak, you always worry that someday the stars aren't going to line up," Durocher said. "The fact we've got a couple wins over Northeastern (14–9–2, 8–6–1 Hockey East) — sometimes instincts don't let you get as jazzed up or you take something for granted."
Durocher said Northeastern is a team to be reckoned with, and forwards Kendall Coyne, Casey Pickett, Rachel Llanes and Brittany Esposito lead a solid team with great chemistry on the ice.
"When you can rattle off three or four names of all-star players, you know they have some depth and can score goals," Durocher said.
Despite their wining streak, Durocher said the Terriers have to be cognizant of their performance on the ice last Saturday.
"I feel like we've had a number of games where we've been looking to run and break out of the zone," Durocher said. "We still should have been thinking about defending the front of our net."
On Oct. 16, BU beat NU 4–1, but when the teams met on Jan. 16, BU barely snuck by with a 5–4 win.
"Early in the year, we caught them by surprise. But they were here in the second game," Durocher said. "It was right down to the wire, and it ended up being a one-goal game. They came back late in the game with a couple of goals and got a pretty darn good look to tie the game."
Beyond BU's all-stars, Durocher said junior Louise Warren, freshman Jordan Juron and freshman Lillian Ribeirinha-Braga have been playing well, and he hopes their performance continues to improve as the season draws to a close.
"Louise Warren has really stepped up her game. Jordan had a nice weekend and is hopefully continuing with that same confidence. Ribeirinha-Braga played a very good game on Sunday," Durocher said. "There are plenty of others, but those are a few who've done a real nice job recently"
Independent of the upcoming Beanpot tournament, Durocher said the game against the Huskies Saturday has its own importance.
"What you try to do in this game is not worry about Tuesday … but let's see if we can get this win because this is one of those games that's important," Durocher said. "Northeastern's a team that's right at or right under the teams under consideration for the NCAA [tournament]."
Six games away from the end of the regular season, the game against NU has implications for both hometown glory and national standing.
"With national standing, when you're in a nice location in the top five or 10 teams, every game you try to keep yourself there," Durocher said. "With local pride, anytime we play Harvard [University], [Boston College] or Northeastern, the kids certainly get to know each other … There's always that extra pride because of their relationships and knowledge with each other."
If anything, Durocher said he hopes Saturday will enhance BU's place against rival No. 2 Boston College.
"We need to keep putting together wins. We don't get the automatic bid by winning Hockey East. We have a good body of work, and we want to earn our way in," Durocher said.
"And last but not least, we're in a good race with Boston College right now. [If we] keep pace with them and keep pressuring them … we could come up in the regular season."