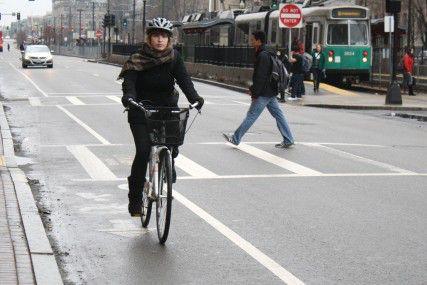 In light of the multiple bike accidents that occurred in the City of Boston in 2012, grassroots organizations and city officials are considering implementing cycle tracks to further promote bike safety.
Mike Tremblay, an engineer at Howard/Stein-Hudson Associates, proposed the idea of installing a cycle track in South Boston on Broadway and L Street, to create a safer biking atmosphere in the area.
The project was originally part of Tremblay's capstone project at Northeastern University in 2010, but the idea of a cycle track is beginning to take hold in Boston, he said.
"Rather than put simple bike lanes down, we wanted to put something a little bit better," Tremblay said.  "What we wanted to do was create an intermediate-level cycle track, which would be separated from the street level by about four inches or so."
The proposed raised bike track would be installed between the sidewalk and parking spaces for cars.  This design would protect bikers from traffic on the street and prevent cars or pedestrians from using the cycle tacks created specifically for use by bikers, Tremblay said.
"Broadly speaking, there is evidence that cycle tracks improve safety," said Price Armstrong, the program director at MassBike, an organization that promotes bicycling and bike safety throughout the city. "Certainly bicyclists prefer cycle tracks because they are either grade-separated or there is a horizontal buffer between the bicyclists' track and the road."
In the fall 2012 semester there were two fatal bike accidents involving Boston University students. Chung-Wei Yang, a sophomore in the College of Arts and Sciences, was killed in a collision involving a Massachusetts Bay Transportation Authority bus, and College of Communication graduate student Christopher Weigl was killed in an accident with a tractor-trailer.
These biking accidents are not uncommon occurrences on Commonwealth Avenue. According to the Mayor's Office, Commonwealth Avenue and Massachusetts Avenue have the two highest rates of bike accidents in the city.
Armstrong said action needs to be taken to curb the number of accidents.
"Every time there is a fatal bike crash, or every time there is a bike crash fatal or not fatal, it reinforces the importance of what we do," he said. "It reinforces the importance not only of better infrastructure, but better enforcement of traffic laws, and enforcement that fosters a culture of safe driving habits and safe bicycling habits."
With bike riding on the rise in the city — ridership increased 122 percent between 2007 and 2009, according to the Mayor's office — government officials and grassroots groups are beginning to address bike safety. And with the installation of better-protected biking areas like a raised cycle track, bicycling supporters hope to encourage even greater numbers of Bostonians to bike.
Jon Ramos of Planet Southie, a South Boston-based organization that promotes healthy and green living in the area, said in an email commuting by bike is invaluable to the city and its residents.
"For many people, myself included, bicycles are the ideal mode of transportation," he said "Bicycle commuters can reach nearly any part of Boston in less than 30 minutes. The city's investment in safe bike access would mean a more mobile city, and a healthier city. It's good exercise and won't pollute the air we all breathe."
The intermediate cycle tracks have been proposed to the City of Boston in legislation and may be implemented in the next two years, Armstrong said.
MassBike has been involved in proposing two bills that would work to promote bike safety. The Act to Promote Vulnerable Road Users and the Act to Protect Bicyclists in Bike Lanes are awaiting approval at the state level.
"We submitted two bills, one being the vulnerable road users bill, which strengthens protection of bicyclists and pedestrians and other vulnerable users of the road," Armstrong said. "The other bill we filed would ban parking in bike lanes in the city."
These bills, along with the proposal of bike tracks and the improvement to existing bike lanes all are proposed with the goal of making Boston a more comfortable and safe place to ride bikes.
"That may be one less car on the road, one less car pulling into and out of parking spaces, so maybe less people decide to buy a car," Armstrong said.  "When you're in your car, you are shut off from the world. But when you're on a bike you are observing a little more. You're more involved with the community."