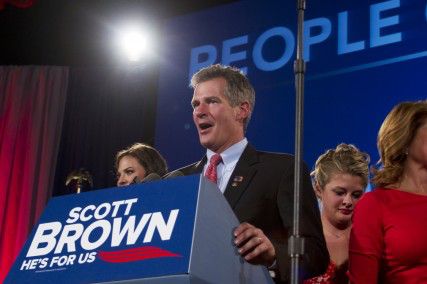 Scott Brown announced Friday he will not enter the special election race for the Republican Party to fill Secretary of State John Kerry's vacant seat in the Senate, coming as a shock to many who saw this as an alternative route for Brown to return to office.
"Over these past few weeks I have given serious thought about the possibility of running again, as events have created another vacancy requiring another special election," Brown said in a statement Friday.
"Even so, I was not at all certain that a third Senate campaign in less than four years, and the prospect of returning to a Congress even more partisan than the one I left, was really the best way for me to continue in public service at this time."
Brown first announced he was not running in a text message to the Boston Herald that read, "U are the first to know."
His spokesman confirmed to the Boston Globe later in a text that said, "Not running."
Brown released a full statement later in the afternoon stating he was not running in the special election and appreciates his time in the Senate.
"I left office last month on the best of terms with colleagues both Republican and Democrat," he said in the release. "I had worked well with so many of them, regardless of party, to serve the public interest just as we are all supposed to."
Brown said his time in the Senate was marked by his bipartisan approach to politics.
"All of this was in keeping with the pledge I made at the beginning to do my own thinking and to speak for the independent spirit of our great state," he said in a statement.
Brown was at first unknown when he announced his candidacy for the Senate special election in 2009 when a position became vacant with the death of Ted Kennedy. He overcame overwhelming odds when he won the seat in 2010, defeating current Mass. Attorney General Martha Coakley.
Brown ran for a full term in 2012, but was defeated by U.S. Sen. Elizabeth Warren.
Early polls suggested that Brown would lead Democratic contenders Rep. Stephen Lynch and Rep. Edward Markey in the race. A poll by the
MassINC Polling Group suggested that he would defeat Markey in the election by 22 percent, according to the study from Jan. 25.
Another poll by Public Policy Polling had Brown leading Markey by just three points in the election, 48 percent to Markey's 45 percent.
However, 69 percent of the undecided voters polled voted for Warren in the November election and only 17 percent for Brown.
Many voters said they would prefer to have Brown run in the gubernatorial election when that position becomes available in 2014, according to the PPP poll,.
"Republican voters, by a 48/38 margin, would actually prefer that Brown run for Governor rather than the Senate. And our polling finds that Brown would start out as a pretty strong favorite for that office," the PPP press release stated.
Brown's decision not to run for the Senate seat opens the door for other Republicans. Former Mass. Gov. William Weld is believed to be the next viable candidate after Brown.
Other rumored candidates include former state senator Richard Tisei, former Mass. Lt. Gov. Kerry Healey, former Navy SEAL Gabriel Gomez and FOX News contributor Keith Ablow.
Tim Buckley, spokesman for the Massachusetts Republican Party said strong candidates for the Republican bid have yet to appear.
"We're just waiting to see what decisions people make and go from there," Buckley said.
David Palmer, professor emeritus of international relations and political science at Boston University, said Brown should consider a run for governor.
"Republicans have fared better in Massachusetts governor elections, so probably yes [he should run]," Palmer said. "[Brown's decision] makes more intriguing speculation about the governor race a possibility."