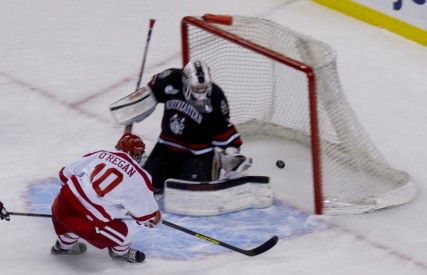 Short of having a full two minutes on the 5-on-3 instead of just 1:56, it would be hard to imagine the Boston University men's hockey team having a better chance to score than it did in the second period of Monday's Beanpot semifinal loss.
Northeastern University defensemen Colton Saucerman and Dax Lauwers went to the box within four seconds of each other, just short of 17 minutes into the second period. BU (13–11–1, 10–7–1 Hockey East) was already 0-for-3 with the man advantage that night, but down 2–1 more than halfway through the game, it had no shortage of motivation to cash in on the 5-on-3.
Instead, sophomore defenseman Alexx Privitera opened the power play by shooting directly into the shins of former Terrier and current Husky (8–13–3, 4–11–3 Hockey East) captain Vinny Saponari, and his teammates followed suit.
When Northeastern's penalty killers collapsed around senior goalie Chris Rawlings, BU stayed on the perimeter, apparently hoping the Huskies would break their formation and open up a shooting lane. They did not, and just two BU shots made it to the net on that 5-on-3, although the Terriers had possession for most of that 1:56.
"It was a huge letdown," said senior captain Wade Megan. "You're not going to win any games if you get opportunities like that and you're not able to cash in and at least get some good chances. You've got to make teams pay for taking penalties like that, and we weren't able to do that."
After those two Husky defensemen left the box, their teammate Josh Manson went in for boarding 10 seconds later. Manson's penalty came after he sent BU junior wing Sahir Gill flying into the end boards, and it posed a challenge to BU's power play — if they couldn't threaten with the man advantage, why should Northeastern stop playing a physical game?
The Terriers' response to that hit involved just one shot on the ensuing power play. In six total man advantages — a total of 8:30 on the power play — they got four pucks through to Rawlings.
BU coach Jack Parker said after the game there was "a lot of pressure" on BU on the power play, and that it paralyzed players who otherwise would be regular contributors.
"I think this team has lost its confidence a little bit," Parker said. "They're trying to do too much individually. I think that's why the power play is terrible. Everybody thinks they have to get something done."
Despite being tied for the third-highest scoring offense in Hockey East, BU has the seventh-best power-play percentage, firing at just 14.4 percent.
On Monday, the reasons for that low mark were numerous. The Terriers lost races to the puck when they dumped it into the zone, but couldn't get past Northeastern's defensemen at the blue line when they tried to carry it. When they did set up in the zone, they either shot into waiting Husky blockers or hesitated a second too long when a lane opened up.
The Terrier offense in general struggled Monday. After a perfectly executed passing play to set up their first goal, they didn't score again until freshman defenseman Matt Grzelcyk carried the puck from the neutral zone himself and handed it to Gill to tap in on the doorstep with 1:11 left in the game.
Last time out against Northeastern, BU scored three of its five goals on the power play, and the Huskies entered Monday's game with the eighth-best penalty kill in Hockey East. On Monday, they moved into a tie for fifth.
"Unfortunately, last time we played BU, they were 3-for-6 on us," said Northeastern coach Jim Madigan. "They're highly skilled. But there was a calmness and a composure on the bench, and guys were reassuring — we'd killed off some before that 5-on-3."
Despite the fact that it spent almost half of the second period on the power play, BU had just nine shots in the entire frame, as Northeastern's success on the kill appeared to energize them for their even-strength stretches.
"It's something we need to figure out — get the puck in the zone and get pucks to the net and start scoring power-play goals. And if we can't do that we're in for a long season," Megan said.