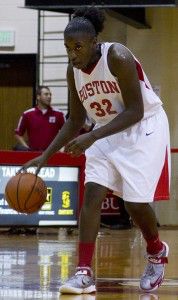 Looking to continue its dominance in the America East Conference this season, the Boston University women's basketball team will host Stony Brook University Wednesday night at Case Gymnasium.
Coming off of a last-minute victory against University of Hartford Saturday afternoon, where senior guard Chantell Alford converted on a 3-point play  to give the Terriers a victory, BU (18–4, 8–1 America East) will be looking to stay in contention with the University at Albany at the top of the America East standings.
At Stony Brook (12–10, 4–5 America East) over a month ago, these two teams met for the first time this season. The Terriers were able to come away with an 11-point victory, 72–61. Alford led all scorers with 23 points on an 8-of-12 shooting night, draining three treys and adding five assists and five rebounds to her stat line.
The only other Terrier in double figures was senior guard Kristen Sims, who came just one point shy of her career high in scoring with 18 points on 5-of-9 shooting. Four of her field goals came from beyond the arc.
In their last matchup, the Terriers' defense was solid in the first half, as it held Stony Brook to 24 points and 40 percent shooting. But in the second half, the Seawolves came out with energy and fight, outscoring the Terriers in the second half, 37–34, shooting 57.7 percent from the floor.
The Seawolves had two players tied with a team-high 12 points, as senior forward Jessica Previlon was 6-for-10 from the field and added nine rebounds, while sophomore guard Sabre Proctor chipped in 12 off the bench on 5-of-12 shooting. Also in double digits was junior guard Teasha Harris, who put in 10 points on 3-of-6 shooting off the bench.
This time around, the Terriers will be looking to repeat their success against Stony Brook. At 4–5 in America East, the Seawolves are sitting in the middle of the pack at fifth place and looking to gain ground moving towards the conference postseasontournament.
The Terriers, since they have been excluded from the conference tournament, will be looking to gain key victories in order to secure an at-large bid for a national tournament.
In order to secure this victory, the Terriers will need to continue being tough on defense. BU is allowing only 51.3 points per game this season, which is second in the conference to Albany (18–3, 9–0 America East). Stony Brook is fifth in the conference in the scoring category, putting up an average of 54.4 points per game.
"Two keys to the game are, one, to prevent them from getting transition baskets," said BU coach Kelly Greenberg. "And two, they really rebound, they get a lot of offensive boards, they really crash hard, and we have to limit their second chance opportunities."
In their last matchup, the Terriers outrebounded Stony Brook, 36–32, and won the differential on the offensive glass, 13–11. BU also was able to come out on top 6–2 in the second-chance points category. If the Terriers are looking to win this game, they will need to mirror their success on the boards.
At home this season, the Terriers have played well, winning eight of ten games, while the Seawolves have been less than stellar on the road at 4–6.
For a team like BU that likes to shoot the three, and shoots it at a good percentage, the Seawolves' seventh-ranked defense against the 3-point shot will no doubt be tested.
Stony Brook has allowed its opposition to shoot 33 percent from deep this season. BU, on the other hand, trails Albany by only .07 percentage points with a 35.9 percent 3-point field goal percentage.
With only seven games left in the season and its chances for an at-large bid still up in the air, BU will be looking for a win to pick up steam going down the season's final stretch.