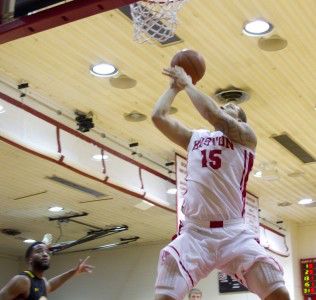 Junior forward Dom Morris returned to form for the Boston University men's basketball team to help BU (12–11, 6–4 America East) defeat the University of Maine, 79–72, Tuesday night.
The Newark, Del., native tallied a career-high 20 points on 9-of-13 shooting after a forgettable outing at the University of Hartford five days ago, a game in which he missed five shots and registered four points.
"We play teams twice, so they know your tendencies," Morris said of his bounce-back performance. "The first time I played Maine, I didn't play well, but the first time I played Hartford, I played well. It just happened differently.
"They know what you like to do and what you are going to do. They just played me differently. I got off this game versus Hartford."
Freshman guard John Papale contributed 16 points and knocked down four treys, freshman guard Maurice Watson Jr. added 14 points and a season-high eight assists and junior guard D.J. Irving corralled a career-high 10 rebounds for the Terriers, who have won four straight at Case Gymnasium. The Terriers improved to 7–2 on their home floor.
"I think BU's an awfully talented team," said Maine (8–15, 3–7 America East) coach Ted Woodward. "We knew it'd be a heck of a challenge coming in here tonight. They shoot the ball very well and they're very well balanced. I know they've been playing very good basketball."
Guard Xavier Pollard scored 20 points, guard Justin Edwards chipped in 16 of his own and forward Alasdair Fraser had 16 points and eight boards for the Black Bears, who dropped their fourth game in a row.
Maine jumped out to a quick 4–0 lead after the tip-off on an Edwards layup and a Fraser banker off the glass. BU did not take long to respond, aided by a 5–0 spurt by Morris and Watson Jr. to pull ahead for the first time all evening.
After Edwards made two free throws to give the Black Bears a 22–19 edge midway through the first half, the Terrier offense began lighting up Woodward's 2-3 zone defense.
Papale swished a 3-pointer from the right wing to even the score, jumpstarting the 10­–0 burst that ensued. Morris drove in for a lefty layup and swished a 15-foot jumper, Papale connected from downtown once again and Watson Jr. buried a triple of his own during the stretch, which provided BU with a 32–22 advantage at the 13:12 mark.
Pollard's jumper trimmed Maine's deficit back down to double digits, but that eight-point margin lasted a mere 17 seconds.
The Terriers only padded their lead from then on, exploiting the 2-3 zone that Woodward continued to roll out. During the scoring binge, Papale sunk another 3-pointer, Watson Jr. recorded a steal and an uncontested layup, Irving converted two free throws and a jumper and junior forward Travis Robinson stuck back-to-back threes.
By the time Woodward looked up at the scoreboard, BU was up by 21 with 2:42 remaining before halftime, courtesy of that 15–2 run.
"We missed a couple shots, they got a couple of turnovers, they got in transition and they hit threes," Woodward said. "It seemed like Papale had quite a few baskets. I thought we did a good job in the beginning of slowing them down in the zone, but they got a little bit of rhythm against it."
In the second half, the Terriers' lead reached 22 points on a Morris two-point field goal at 2:51.
But the Black Bears refused to go away easily and chipped away at the lead. What once was a 22-point cushion turned into a seven-point victory for the Terriers, as they were outscored 40–31 in the final frame.
Finishing games strong has been the Achilles' heel for BU this season, something that Morris attributes to a young squad still learning to play a full 40 minutes.
"Next year we'll get the mentality where you got a team down and you step on their neck," Morris said. "Right now, we're just learning, just trying to have fun, but we also need to get that mentality."  As far as the 100th meeting between these America East rivals was concerned, Morris was glad that his team was the one that came away with the win.
"It means a lot," Morris said. "Now we're just trying to win every game, so it was just the next game on our schedule. Since it's a rivalry, it's always good to beat Maine, either at Maine or here.