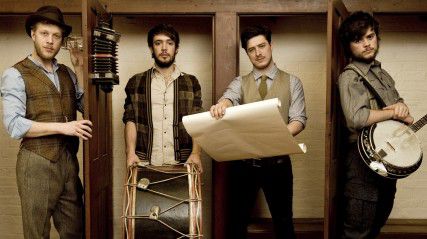 The manifestation of the folk renaissance of the past several years came out in droves Tuesday night to see Mumford & Sons, Ben Howard and The Felice Brothers sing to a sold-out TD Garden. 
British singer-songwriter Howard opened the night with sincerity and soul-steeped folk ballads inviting many a Nick Drake comparison from his debut album, 
Every Kingdom
(Island, 2012). As Marcus Mumford himself put it later that evening, "In England he's like the new Princess Diana," but as of yet, Howard has yet to gain as much attention in the States. Judging from the way his quiet croon stilled the rustling of the crowd that generally accompanies an opening act, however, Howard's relatively unknown status in America may soon change.
Rollicking Americana act The Felice Brothers followed Howard, riling the crowd up with the phenomenal use of a washboard and fiddle. By the time Marcus Mumford and company strolled onstage, I was having so much fun that I had almost completely forgotten about some lingering negative feelings I've had about Mumford & Sons.
Any mention of Mumford & Sons in the past has elicited a slight groan from me and a snarky comment somewhere along the lines of "Ugh, bored." Before Tuesday night, I would have told you that Mumford & Sons, to me, seemed one of the most undeserving folk revival acts to sell out TD Garden. But my cynicism was momentarily stifled as the London natives filled the arena with swelling anthems like "Little Lion Man" and "Roll Away Your Stone." My battery-powered heart was touched as every last bro, hipster and family in the audience practically punctured a collective lung shouting along to the group's latest single, "I Will Wait." While perhaps Mumford's LPs leave something to be desired in terms of originality, their sound translates perfectly to an arena setting, backed by stellar horn and string sections.
Still, despite the impressive light show and the sheer energy of the TD Garden show, I wished I had been able to see Mumford's sweet 'n sensitive brand of folk at some dingy pub in England, or at least a place like The ICC Church in Allston, which Mumford named as their first-ever North American gig. While it's great that folk acts like Mumford can pervade the mainstream as they have, I wished for my own selfish reasons that I could have experienced the band within the context their music conjures: down-home, dirty, dive-y Americana. But I suppose I can still hope for a Ben Howard headlining tour in the near future that can fulfill that dream — fingers crossed.