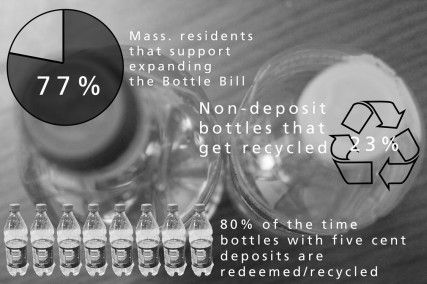 After receiving the highest number of cosponsors in its history, the Bottle Bill update — which would expand recycling opportunities throughout the state — seems close to passage.
Initially introduced in 2011, the bill had 66 cosponsors in the House. But, when the official cosponsor period ended Friday at midnight, the bill had a total of 95 cosponsors: 75 in the House and 20 in the Senate, according to a press release from the Massachusetts Public Interest Research Group Monday.
"The fact that we have 10 percent more cosponsors in the House and a majority of freshmen [legislators] signals that this bill has more momentum than ever before," said Mass. Rep. Jon Hecht, the chief sponsor of the bill in the House, in the release.
The Senate passed the bill in May, leaving the House as the only obstacle before its passage. The updated Bottle Bill would enact a five-cent deposit on non-carbonated beverages, such as water, juice, vitamin and sports drinks, according to the release.
"People see this [update] as a natural extension, [bottles] are a product that can be recycled and reused," said Rick Sullivan, secretary of the Massachusetts Office of Energy and Environmental Affairs. "It makes sense financially and environmentally."
The original Bottle Bill was implemented in 1983, which instituted the five-cent deposit on bottles and cans, but was only applied to carbonated beverages such as soda and beer.
"More than 200 cities and towns have passed resolutions supporting the Bottle Bill update," Sullivan said.
Janet Domenitz, executive director of Massachusetts Public Interest Research Group, said the recycling rate would see a significant rise.
"Containers that have a five-cent deposit are redeemed or recycled 80 percent of the time, and containers without a deposit are obviously not getting redeemed, and are only recycled 23 percent of the time," she said.
Allowing customers to redeem all of their recyclable containers would not only increase recycling and help them see returns on their purchases, but would also enrich redemption centers in Massachusetts, said Shanker Sahai, founder of Greenbean Recycling.
"[Greenbean] would love the five-cent deposit on water bottles because we're not making any revenue on them right now," Sahai said.
Sahai said extending the five-cent deposit would allow recycling centers such as his to continue to operate profitably. Rep. Matthew Beaton said he is not a sponsor of the bill because unredeemed deposits would go into the Massachusetts general fund and essentially be a tax on the bottling companies.
"The governor is treating [the update] as a revenue bill, not as an environmental bill," he said.
Once the bill is on the floor, Beaton said he is going to file for an amendment that would send money from unredeemed deposits back to the bottling companies.
But Domenitz said the update is a smart decision in terms of finances and sustainability for the state.
"The bottle deposit system is the most effective recycling tool we have," she said.