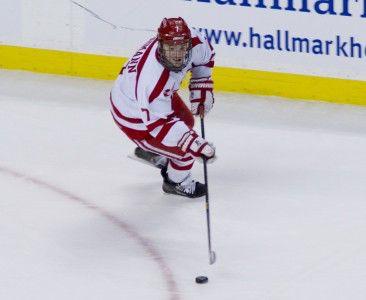 Last week, Wes Myron became the third Boston University men's hockey player in 14 months to leave the team midseason in search of better playing opportunities. BU (13–11–1, 10–7–1 Hockey East) coach Jack Parker said Myron was unhappy with his playing time and role on the team.
On Sunday, Parker spoke highly of those players who might have been frustrated with their minutes early in their time here, but stuck around and saw their work pay off — including the Terriers' captain and their top scorer.
"[Senior captain Wade] Megan had his struggles his first two years before he blossomed into a great player," Parker said. "Some of that might have been that we didn't play him enough. Some of it had to do with him getting faster and stronger.
"[Sophomore forward Cason] Hohmann was miserable last year, but he didn't leave. It wouldn't have surprised me if somebody else other than Cason was in that situation and left. Because, 'hey, I was supposed to be on the power play when I got here and now I'm not.'"
Megan was in the lineup nearly every game in his first two years at BU, but had just five goals his freshman year and eight his sophomore year. As a junior, when injuries and departures gave him a chance at top-line minutes, he went off for 20 goals.
As an 18-year-old freshman last year, Hohmann played 35 games, mostly on the third line, and finished with two goals and six assists for eight points. Despite a recent cold stretch, he has already almost tripled that with 23 points this year.
Senior assistant captain Ryan Ruikka, of course, took sticking around a step further, playing a fifth season for BU as a graduate student because he missed his first two potential seasons with injuries.
"Ruikka is a terrific example," Parker said. "He missed his first two years and he has been a regular, but a regular not-the-No. 1 defenseman for this team. He has played a role. He has accepted that role and he has gotten a great education, and that is what he came for. He has been a fabulous teammate."
Parker said players leaving midseason were rare decades ago, but are a part of the job now.
"I guess we should be a little more concerned about trying to …  make sure we get kids who are more dedicated to their decision," Parker said. "I don't remember too many guys quitting because they didn't like their ice time my first half of my career. My second half of my career has always been a little bit of that.
"The reason for that is guys who have expectations of playing pro hockey … If they can't make it here, maybe they're not going to play pro hockey, you know?"
Parker not concerned about depth
After two midseason departures, BU has just one spare forward, senior Jake Moscatel, who did not play a game before Jan. 4 of this year. It does have seven defensemen who have been used regularly this year, plus junior Matt Ronan, who has played two career games.
In the two games since Myron's departure, Ruikka has played right wing on the fourth line and BU's other six regular defensemen have dressed.
"We still have seven defensemen any way you look at it," Parker said. "We have plenty of goaltending any way you look at it. We have Jake [Moscatel], who's proved he can play. And if you have to, you can play 11 forwards. If you have to, you can play five defensemen — five defensemen if you play Ruikka up front, anyway. I'm not concerned about that right now.
"We don't want to lose anybody else to injury or anything like that. But in general, we have enough players. It's been whittled down, but we have the players we want. It's not like we lost somebody that we wish was still here. Those guys left because they weren't contributing and they thought they'd move someplace else."
The final 10
With 10 games left in the season, the Terriers are not quite where they had hoped to be after a 10–5–0 first semester. They are hovering just above .500 with a 13–11–1 overall record, one point below Merrimack College and one above Providence College for fourth place in Hockey East.
BU is now as far removed from its Dec. 29 loss to the University of Denver as from the end of the season. Beginning with that 6–0 loss, the Terriers are 3–6–1. Just three of those games were against currently ranked teams (Merrimack, Denver and the University of Massachusetts-Lowell).
Without the context of the last month or so, BU's last 10 games could look like a breeze: two games each against the University of Maine, University of Vermont and Northeastern University, the eighth, ninth and tenth-place teams in Hockey East.
But Northeastern (8–13–3, 4–11–3 Hockey East) beat BU twice in the last month, with a combined nine goals in those two games. And while the Terriers beat Maine (8–14–5, 4–9–5 Hockey East) in their only meeting so far this season, the Black Bears swept No. 4/5 Boston College last weekend, putting to rest any notion that any Hockey East game can be taken for granted.