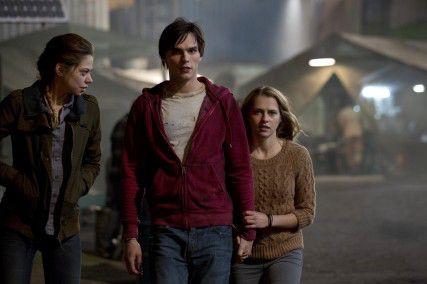 With the Northeastern weather not so kind this winter, everyone could use a little warming up.
What better way to lay the gloves and scarves aside than by cozying up in a theatre and watching zombies eat brains and fall in love?
In the post-apocalyptic world of Warm Bodies — directed by Jonathan Levine (50/50, The Wackness), starring Nicholas Hoult, Teresa Palmer, Analeigh Tipton, John Malkovich and many others — zombies, although already dead, have lost all sense of what it was like to have ever beenalive, or in love, in the first place. Until human Julie (Teresa Palmer) is introduced, zombie R (Nicholas Hoult) quite literally mopes around, moaning and groaning until he experiences his first heartbeat in years.
The film is wrought with scares, comedy and adorable moments all woven together to form what is probably one of the only cute zombie films out there.
The film's nonconventional approach attracted director Jonathon Levine to the project, he said.
"For me, it was such a unique take on zombies. I don't think we're trying to redefine anything here, I think we're trying to use zombies to tell a story about what — for me — is just a guy and a girl falling for each other.
"Zombies have always traditionally been used to tell stories and to sort of reflect society back to itself and so that's why I don't think we're trying to redefine them," he said.
Seems like a fair enough answer, after all — society can get pretty messed up, huh?
But the film has its fair amount of fun.
Warm Bodies "hits on so many different levels that you really get to indulge in so many different avenues … There's so many different levels to this film, and it never gets boring," said actress Analeigh Tipton, a former contestant on "America's Next Top Model" (Cycle 11), who plays Nora, a tough female who, like all other non-zombies, is trained to handle weapons and fend off the brain-eaters.
For the role, Tipton got to handle machine guns on set, she said, describing the whole process as "playing pretend on a very heightened, wonderful scale."
But don't let the machine-gun talk scare you away. The film is geared towards zombie lovers and chick-flick fans alike, and doesn't use an immense amount of gore or cheesy effects. Both Levine and the studio wanted Warm Bodies to be accessible to all.
"We definitely wanted to keep it PG-13. It's a movie that we wanted young people to see, and we didn't want them to have to sneak in," Levine said, adding that the film "has a very positive heart to it, so I didn't think it was important to push the envelope on the gore."
He did, however, "shoot some really gory stuff which will maybe make it to some director's cut."
While the film can get pretty action packed, there are particular moments where the female cast specifically got to have fun, Tipton said. In one scene, Julie and Nora hold R down and apply makeup to him for fun — ironic, since after sitting through hours of crazy makeup herself on ANTM, Tipton was finally the one with brush and pallet in hand.
"We are playing tough characters. There weren't a lot of moments to get girly, and this was our moment to really just fully hold him captive … We put so much bad makeup on him and he had to sit there just so patiently," Tipton said.
With such a mix of sweet goofiness and violence, one has to wonder where some of the inspiration came from besides the original novelization by Isaac Marion.
"Nick [Hoult] took inspiration from WALL-E, and also Edward Scissorhands just for the tone," Levine said. "You want this guy who can't speak to feel sweet and Nick is so good at doing that."
But fighting zombies, no matter the level of sweetness, is still serious business. Levine's weapon of choice?
"One of those tee-shirt guns, it was actually my assistant's idea," he said. "I regret not doing that because that would've been really funny."
Tipton opted for a more creative approach, explaining that she'd use "wordplays and puns … to confuse [the zombies] so that they would get really baffled and maybe turn and eat themselves."
Warm Bodies will be hard to stay away from. With Valentine's Day so close, it's the perfect film to watch while snuggling up next to your special someone. Or, if you are still waiting for your own brain-eating lover, simply place your jacket and scarf on the seat next to you to comfort yourselfwith the fact that at least it's not empty, right? No matter who is sitting next to you, Warm Bodies guarantees that the theatres won't be empty this month.