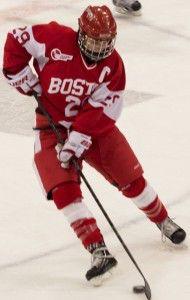 When the No. 3 Boston University women's hockey team fell on Tuesday in the Beanpot semifinals against Northeastern University, it was the team's first loss in 14 games.
BU was held to fewer than three goals just three times over the course of its undefeated streak. However, the Huskies gave up 13 goals in three games to the Terriers earlier in the season, and didn't let it happen again. BU only netted one puck in its 4–1 loss.
"[The Beanpot loss] was obviously very trying and something that the kids had pointed to for a while here," said BU coach Brian Durocher. "Going into the Beanpot the last four years, we've had a team that could have won the event, but it hasn't happened for different reasons so it definitely left a sour taste in everybody's mouth."
Durocher said passing and forechecking are the most imperative factors to the team bouncing back and getting a new streak going.
"We need to work on a couple of things we didn't do well the other day," Durocher said. "I don't believe we made or caught passes very well … so we'll focus on that. We've got to be a little more determined on our forecheck.
"And I think if we put those two things together we should be in pretty good order."
Scoring machine
The Terriers' 3.64 goals per game ranks them second in Hockey East in scoring, behind No. 2 Boston College.
For the first time in the program's history, BU has six players with 10 or more goals in the same season. Redshirt senior forward Jenelle Kohanchuk leads the way with 13 goals, while her linemate, junior co-captain Marie-Philip Poulin, leads the team with 23 assists and 35 points. Poulin also ranks just behind Kohanchuk in goals with 12.
But instead of reffering to individual star players, Durocher said it is the loose atmosphere surrounding the team and the opportunistic power play that help the Terriers put up so many goals.
"I try to keep everybody loose here and not try to over-coach them or tell them what to do out there," Durocher said. "I let their ability speak for themselves.
"And … we've had a real solid run on the power play since Christmas. And when you get that one — or maybe some games two — extra goals on the power play, it really does set a tempo and give yourself a chance to get the three, four, maybe five goals a game."
The confidence that comes along with the team's ability to put pucks in the net can result in advantages and disadvantages.
"Sometimes it can be a great piece to their confidence because they know that they can come back," Durocher said. "But I hope that it's not a shortcoming in that we don't play enough defense."
Keeping it simple
With just seven games remaining in the season, BU isn't thinking about the NCAA tournament just yet.
"[If BU has] a chance to play in the championship, or possibly win an NCAA title, that'd be fantastic," Durocher said. "But that's not in my thoughts right now."
Despite its No. 3 ranking, the team is taking a much simpler approach, with its eye on other accomplishments before the national championship comes into the picture.
"There's a regular season championship we're fighting for, there's an NCAA bid we're playing for, and obviously we're playing for the Hockey East postseason championship," Durocher said.
Even with national rankings and seeds for the postseason tournaments hanging in the balance, the Terriers are thinking about nothing but the upcoming contest.
The Terriers face off against Harvard University in the Beanpot consolation game Tuesday at 5 p.m. in Matthews Arena, the home of the Northeastern Huskies.
"It gets confusing if you put too many things on the kids," Durocher said. "If you can keep the focus on Harvard, we can create our own energy within the team.
"Those are the real things we have to focus on."