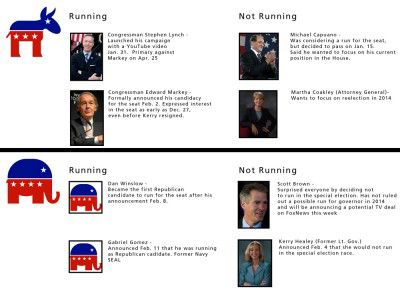 Closely following one of the most talked-about and divisive U.S. Senate races in 2012, citizens of Massachusetts once again will witness a hard-fought battle to fill Secretary of State John Kerry's vacant seat.
U.S. President Barack Obama tapped Kerry Dec. 21 to replace Hillary Clinton as Secretary of State. Kerry was later confirmed Jan. 30 by a 94-3 vote and resigned from his senate seat Feb. 1. Mass. Gov. Deval Patrick appointed William 'Mo' Cowan Jan. 30 as interim senator until a special election could be held to fill the seat.
Speculation has been running wild with regards to who will run in the special election that will take place June 25, and a pool of candidates is beginning to form.
The first candidate to declare candidacy for the Senate seat was U.S. Rep. Ed Markey. Markey, a Democrat, said he would run for Kerry's open seat Dec. 27, before Kerry was confirmed as Secretary of State. Markey made a formal announcement declaring his candidacy Feb. 2. U.S. Rep. Stephen Lynch is the only other Democratic candidate that has announced he is running for the seat. Lynch kicked off his campaign Jan. 31 with a YouTube video detailing the issues he wanted to address if elected.
The Democratic Party had many high-profile personalities that declined to run.
When Kerry was tapped, Attorney Gen. Martha Coakley took her name off the list, stating that she wanted to focus on reelection for her position in 2014.
Edward Kennedy Jr. announced Dec. 24 he would not run for the seat because he wanted to stay in Connecticut. However, he said he might run for a political office in the future.
Mass. Sen. Benjamin Downing said he was not running due to financial reasons Jan. 11.
U.S. Rep. Michael Capuano said Jan. 15 that he was not going to run for the seat and that he wanted to focus on his work in the House.
On the other side of the aisle, Republicans have been scrambling to find a candidate after Scott Brown shocked members of his party and decided Feb. 1 not to run. But Brown will not disappear entirely from the political stage, and is expected to announce a television deal with Fox News later this week. Brown also said he has not ruled out a run for governor in 2014.
Tim Buckley, spokesman of the Massachusetts Republican Party, said the GOP is optimistic about its future.
"We have done pretty well in special elections. Whoever wins the primary will be a clear contrast to Markey and Lynch," he said. "There are a lot of names floating out there and no matter who gets the nomination, they will be a fresh face to who is already there."
Mass. Rep. Daniel Winslow became the first Republican candidate to declare his candidacy for the seat Feb. 8, and Gabriel Gomez, former NAVY SEAL and businessman, followed suit by declaring his candidacy Monday.
Several Republican leaders said they did not want to run after Scott Brown made his decision.
Former Mass. Gov. William Weld, who was believed to be the next possible candidate, said Feb. 8 that he was grateful for the support, but he was not interested in the position.
Former Lt. Gov. Kerry Healey announced Feb. 4 that she was also not running in the special election.
Tagg Romney, former Mass. Gov. Mitt Romney's son, said Feb. 4 that, due to time commitments and his desire to spend time with his family, he would not run for the seat.
Candidates of both parties must collect 10,000 voter signatures by Feb. 27 in order to appear in the primary, which will be held April 30.
Graham Wilson, professor of political science at Boston University, said there are no popular candidates emerging from either party.
"I don't see anyone of the popular standing of Scott Brown," he said. "Someone said to me recently of the remaining candidates, 'I think our
[Democratic] nobody can beat their [Republican] nobody.' That just about sums it up."