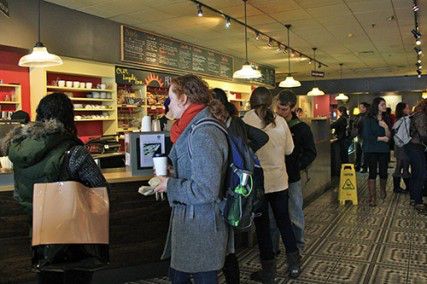 After 20 years as one of the most popular cafés at Boston University, Espresso Royale will be converted to a Pavement Coffee House in summer 2013, Pavement officials said.
"We are so excited about the upcoming changes," said Pavement Director of Operations Andrew LoPilato. "We plan to keep what we all love about Espresso Royale while making improvements."
The change will be made as the final step in converting all of Boston's Espresso Royales to Pavements, LoPilato said.
"The Espresso Royale at the BU campus is the last to become a Pavement," LoPilato said. "The owner, management and team will remain the same even though the name changes."
LoPilato said the change will bring a new ambiance, more coffee options and new lunch sandwiches. Necessary renovations to the existing Espresso Royale space include adding comfortable seating and establishing a focus on stations to make personal coffees.
BU alumnus Larry Margulies, a 1997 College of Arts and Sciences graduate, owns both Espresso Royale and Pavement, LoPilato said. Margulies also owns Bagel Rising, which provides the cafés with bagels.
"We are 100 percent independently owned by Larry Margulies, who has owned the cafés [in Boston] for seven years," LoPilato said.
The Espresso Royale chain was originally a chain from the Midwest, where it still operates today, LoPilato said.
LoPilato said when Margulies bought a new café on Boylston Street, he took the opportunity to start fresh and disconnect from the other Espresso Royales to start the Pavement chain.
"When [Margulies] bought the Espresso Royales seven years ago he did a lot of changes, renovations and upgraded the coffee menu," LoPilato said. "Margulies no longer identified with the original Espresso Royale, and that is why we changed the name."
The Espresso Royale on Newbury Street was the most recent to be converted to Pavement in October 2012, said Marissa Molinaro, the Newbury Street Pavement manager.
"The café has been renovated, it is much more functional and the menu has more interesting choices," Molinaro said. "All in all, the café has a better identity."
Nina DiMaggio, a College of Communication senior, said she is a regular at Espresso Royale on Commonwealth Avenue and is pleased about the change.
"I knew that it was going to become Pavement," DiMaggio said. "Pavement is just as good and has the same quality, so I don't mind."
Ian McIntire, a School of Management sophomore, said he did not know this would be the last semester he could enjoy an Espresso Royale coffee.
He said he will not mind the change as long as the mood of the Pavement is similar.
"I like Pavement too," McIntire said. "I have been there several times and I like it — good atmosphere and good coffee."
Alexys Tjhia, a School of Hospitality sophomore, said she enjoys both cafés, but the atmosphere and artwork of Espresso Royale gives it a personality.
"I hope they keep all the strange things and the interesting little pieces," Tjhia said. "I like the artwork they have here, the tables and the fireplace."