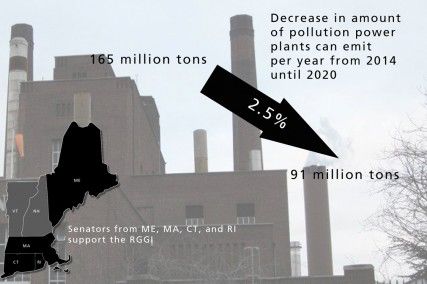 New England Senators and environmentalist joined together Friday to praise a new lower carbon emission cap set by the Regional Greenhouse Gas Initiative.
Nine states, including four from New England, participated in the RGG Initiative, a four-year-old power plant pollution-cutting program in the Northeast and Mid-Atlantic, that has been working to reduce climate change pollution, according to an RGGI press release Friday.
Dale Bryk, director of the energy and transportation program at the Natural Resources Defense Council, said in a statement that the initiatives is multi faceted.
"This program has shown the nation unequivocally that environmental and economic progress can indeed go hand in hand," she said.
Interim U.S. Sen. William Cowan praised the initiative for encouraging job growth and environmental protection standards.
"Not only is this decision good for our environment, but it will drive job creation, strengthen our state economies, and continue to establish New England as an innovation leader for the nation," he said in a statement.
Cowan said clean energy is helping keep Massachusetts residents employed.
"Massachusetts now has more than 72,000 clean energy workers, and we've created hundreds of new clean energy companies and technologies," he said in a statement. "This decision will continue to drive our leadership in creating a clean energy economic boom."
The new initiative will limit the amount of pollution power plants can emit to fewer than 91 million tons — nearly half of the previous limit— starting in 2014 according to RGGI.
This will be an initial reduction of 45 percent. After the initial year, the limit will drop 2.5 percent every year until 2020 according to the RGGI.
Sen. Richard Blumenthal of Connecticut said in a statement that he hoped New England's move would encourage the rest of the country to follow suit.
"This innovative initiative is an economic and environmental win-win for Connecticut and other New England states because it reduces greenhouse gas emissions and creates green jobs," he said. "I hope other regions in the nation follow the New England region's lead by creating similar environmentally-conscious cooperatives."
Bryk said the nation would benefit as a whole by following New England's lead.
"As the Environmental Protection Agency prepares to issue carbon pollution standards for existing power plants nationwide, other states would be wise to look to RGGI as a model," she said in a statement.
"By following this lead, they too can reap similar economic benefits while helping to reduce the turbo-charged weather that has been sweeping across the entire country."
The extreme damage left in Superstorm Sandy's wake was also a factor in ensuring this cap, Bryk said.
"In the wake of Superstorm Sandy, RGGI is combating extreme weather at its source: Climate change," she said.