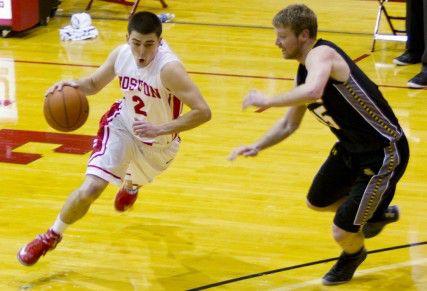 Coming off of an easy weekend victory against Binghamton University, the Boston University men's basketball team took a road trip up to Burlington, Vt., to take on the University of Vermont, and came away with its third straight victory Tuesday night, by a score of 64-59.
Unlike the first two games of the winning streak, the Terriers (14–11, 8–4 America East) did not get off to a good start. Against the University of Maine last week, BU was able to jump ahead 48–32 in the first half. A few days later against Binghamton University (3–22, 1–11 America East), BU had a 42–28 lead headed into the locker room.
But in Tuesday's game, it was considerably closer in the first half. BU fell early against the Catamounts (16–8, 9–3 America East). Vermont took a 7–2 lead to start off the game, capitalizing on several Terrier misses.
BU made quick work of the deficit, and just a few minutes later was down only 9–8. The majority of the half was a back-and-forth affair, and with 3:37 left in the half, BU took its biggest lead of the frame, 20–18.
Missed shots and turnovers by forwards junior Dom Morris and freshman Nathan Dieudonne stalled BU's offensive efforts for the rest of the half. Vermont could not do much either against BU's pressure-filled defense, and the teams went into their locker rooms with Vermont ahead 23–22.
"They're a very good defensive team," said BU coach Joe Jones. "You're not going to get quick shots, you have to play through the shot clock. Both teams played excellent defense and it was hard to get a good shot early."
BU started the second half trying to work the ball into the paint a little bit more. After Vermont wasted a Morris turnover while holding a 25–22 lead early in the half, freshman guard Maurice Watson Jr. made the team's first shot of the half with a deep 3-pointer to knot up the score at 25 apiece.
Shortly after, Vermont countered with a 3-pointer from forward Clancy Rugg, but could not use the momentum to pull away from BU.
After regaining the lead five minutes into the second half, Jones, looking for opportunities to score by creating turnovers, switched to a full-court press. The switch did not seem to affect the Catamounts much, as they called a timeout to readjust, and the game resumed as before — the two teams making shots and exchanging the lead.
With about eight minutes remaining in regulation and a 41–40 lead, Jones resumed using the press defense. While it disrupted Vermont's rhythm a bit, the Catamounts were able to recover and draw a foul.
BU took a five-point lead with fewer than six minutes left in the game after holding the Catamounts without a field goal for six minutes.
After a set of pretty passes along the wing by BU, freshman guard John Papale hit a corner 3-pointer to give the Terriers a 55–51 lead with 90 seconds left.
"We made some timely offensive plays," Jones said. "We did a good job of moving the ball late and executing late."
From there, the Terriers were able to hold onto the lead, defeating the Catamounts 64–59. Papale led the way, scoring 19 points.
"He's more than just a shooter, he's a tough kid, a good competitor," Jones said of Papale.
Morris added a double-double for the Terriers with 12 points and 10 rebounds.
Three Catamounts were in double figures. Rugg and guard Trey Blue contributed 12 points apiece, while forward Brian Voelkel added 11.
"It means a lot for us," Jones said of the victory. "They swept us last year and really cost us the regular season championship. We want to become the best team we can, and enjoy a postseason."