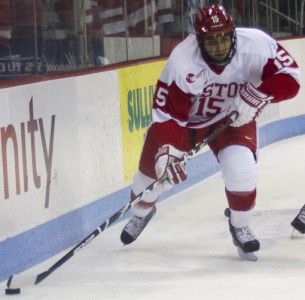 The No. 13 Boston University men's hockey team extended its seemingly endless slump Monday night, when it allowed seven goals in a Beanpot consolation game loss to Harvard University at TD Garden. The Terriers (13–12–1, 10–7–1 Hockey East) have now allowed 13 goals in their last two games against Harvard — a team that averages 1.76 goals per game in contests against teams besides BU.
BU's defense has struggled since coming back from winter break. Before the beginning of the second semester, the Terriers only allowed 2.33 goals per game despite facing the top two offenses in Hockey East three times apiece. However, in the 11 games since then, they have allowed 4.09 goals per game and generally faced statistically weaker offenses.
While freshmen goaltenders Matt O'Connor and Sean Maguire have struggled in part due to poor defense in front of them, it is clear that neither goaltender is in rhythm right now.
O'Connor, who held a 1.75 goals-against average and a .945 save percentage through his first four collegiate starts, has a 4.31 goals-against average and an .862 save percentage in his five starts since the beginning of the second half of the season.
Maguire, who started the second semester well by only allowing three goals in his first two starts of 2013, has a 4.75 goals-against average and an .854 save percentage in his last four starts.
The goalies have not been the only problem for the Terriers, but BU coach Jack Parker is looking for answers now that his team has only won one of its last seven contests.
"We haven't played anywhere near up to our capabilities," Parker said. "[Former NFL coach Bill Parcells] used to say, 'You are who you are. You are who your record is.' Well this is who we are right now. One game over .500. That's a long way from where we were in December."
Power-play changes prove effective
With his power play struggling to get shots on goal, Parker decided to switch up a few tactics with the man-advantage entering Monday night's game.
One of the things BU did was shoot the puck more often instead of waiting for the perfect shot. That way, the power play unit had a better chance of capitalizing on a deflected shot or a rebound in front of the goal.
Parker also moved sophomore forward Evan Rodrigues back to the point on the second power-play unit and slotted senior forward Ryan Santana as the right winger. Parker said he thought Santana would bring a missing element to that group.
"When I played him against Providence on that line, when Rodrigues wasn't playing, he played the power play and was pretty sharp, so I kept that in the back of my mind," Parker said. "He was determined to get in front of the goalie's eyes and he was determined to get to loose pucks, so that's a good thing on a power play."
The moves were effective, as BU scored twice on the power play. Rodrigues scored the first tally on a wrist shot from the point with Santana screening Harvard goalie Peter Traber. Sophomore forward Cason Hohmann added a second goal to make the Terriers 2-for-7 (.286) on the game.
Parker has made the power play a focus area in practice, and will look to continue improving it as the team prepares for the final stretch of the season.
Ruikka remains up front, Ronan could see ice time
Senior assistant captain Ryan Ruikka spent the last two games playing right wing on the fourth line despite being a natural defenseman, and will likely remain in that spot in part due to a lack of depth.
With Yasin Cissé and Wes Myron gone from the team, senior forward Jake Moscatel and junior forward/defenseman Matt Ronan are the only remaining skaters on the roster besides Ruikka. However, Moscatel recently separated his shoulder in practice and was unavailable for Monday's game.
Parker hinted that sophomore defenseman Alexx Privitera could be facing another team suspension after receiving a game misconduct in Monday's game. Should Privitera be benched for Friday's game at the University of Maine, Ronan would likely see his first playing time of the season.