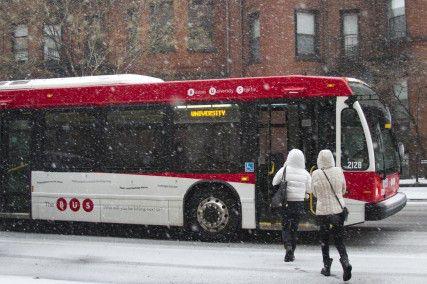 Although the Boston University Shuttle runs on a consistent schedule during the academic year, students said the service becomes unreliable and insufficient in poor weather, particularly in winter months.
"I'm usually fine with walking, but because all my classes are so far from my dorm, when I try to rely on the BUS when the weather is not preferable, I end up waiting a really long time," said Lauren O'Shaughnessy, a College of Communication freshman.
O'Shaughnessy said the BUS should run more often when it is raining or if the temperature drops below freezing.
"Often, when it is raining I can't get on because there are so many people — I know a lot of people run into that issue also," O'Shaughnessy said. "It's a hazard because if anything ever happens and there are 100 people crammed into the smaller bus, the risk of people getting hurt is way higher."
Having larger buses run more often would fix the crowding issue, O'Shaughnessy said.
However, BU spokesman Colin Riley said the university does not increase bus service due to low temperatures or bleak conditions.
"It is impractical and cost prohibitive to provide increased bus service during inclement weather, which is typical, seasonal weather for winter in New England," Riley said in an email. "That would require scheduling drivers to stand-by and additional buses to be on-hand."
Riley said six buses run during peak periods on campus, which are from 7 a.m. to 10 a.m. and 4 p.m. to 8 p.m. Three buses run every twenty minutes during off-peak hours.
"The main function of the weekday BUS service is to facilitate transportation of faculty, staff and students between the Charles River Campus and [BU] Medical Campus, which are miles apart, not along a single walking campus," Riley said.
Riley said the BUS service is an option — just as the Massachusetts Bay Transportation Authority's Green Line trolley and Route 57 bus are — for members of the BU community to travel up and down Commonwealth Avenue.
Danielle Fusaro, a Sargent College of Health and Rehabilitation Sciences sophomore, said she believes the bus runs more efficiently on sunnier, warmer days when fewer people are taking it.
"The bus is useful when it's there, but it does not always show up for the scheduled time," Fusaro said. "The bus should run more frequently when it's freezing because so many more people take it on cold days."
Fusaro said she does not take the BUS often, and would not support paying more for more buses to be added to the fleet.
"There should be more buses running so they don't get overcrowded and so they can meet the schedule," said Rebecca Long, a College of Fine Arts freshman. "It's very hectic and the crowding can get dangerous."
Long said she worries about crowding on the buses on cold and rainy days because there is a greater chance of the bus having an accident.
She said as more people ride the BUS on inclement days, the chance of injury is increased.
"Everyone is trying to squeeze on the bus to avoid walking in the cold," Long said. "It's like the survival of the fittest because people will push, and whoever wants to get on the most will push the hardest to get on."