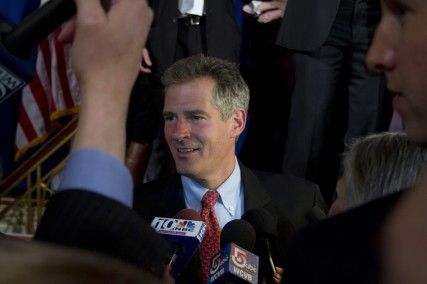 After deciding that he would not run in the special election to fill Secretary of State John Kerry's vacant Senate seat, former Mass. Sen. Scott Brown announced Wednesday that he would become a contributor for Fox News to the station's daytime and prime-time television shows.
"Senator Brown's dedication to out-of-the box thinking on key issues makes him an important voice in the country and we are looking forward to his contributions across all Fox News platforms," said Bill Shine, executive vice president of programming for Fox News, in a press release Wednesday.
Brown defeated Mass. Attorney Gen. Martha Coakley in the special election in 2010 to fill the late Edward Kennedy's open seat. He announced Feb. 1 that he would not run in the special election June 25 for Kerry's seat. Brown did not rule out a possible run for the governor position when it becomes available in 2014.
"I am looking forward to commenting on the issues of the day and challenging our elected officials to put our country's needs first instead of their own partisan interests," Brown said in the release.
Brown made his television debut on "Hannity" at about 9 p.m. Wednesday. He said on the show that running in another election for the Senate within three years would be a burden.
"It's the people's seat as you remember, and to do five races in six years and raise another $30 million to $50 million and then go and participate in a Congress that's dysfunctional and extremely partisan," he said. "But you know, I'm going to continue to work and be part of the election process back home and other elections throughout the country."
John Carroll, professor of mass communication at Boston University, said Brown's independent point of view is different than Fox's image of a far-right Republican news broadcast.
"They let go Sarah Palin and Dick Morse, who were controversial, and then they bring in Scott Brown, who has positioned himself as an independent voice and who is more moderate," Carroll said. "So Fox might be trying to present a more moderate face to the public."
Carroll said Fox might be trying to turn Brown into a more outspoken commentator by putting him on programs such as "Hannity."
"The demands of cable television news are for black and white hot talk that gets the blood moving, and Scott Brown was talking very much the language of the campaign trail when he was on Hannity, and that's not normally what a cable news outlet like Fox wants," he said.
Carroll said he wondered if working for Fox would influence Brown's rhetoric.
"It will be interesting to see how far Fox can sort of tug him towards a more assertive style," he said.
Elizabeth Mehren, a professor of journalism at Boston University, said Brown's exposure on Fox News could hurt him.
"Working as a Fox commentator certainly guarantees increased exposure for former Senator Brown," she said. "However, the shrill, far-right-wing bent of Fox News may not wear well among the traditionally moderate, even sensible Republicans of Massachusetts."
Some people said Brown's move to Fox News is unexpected, but his appearance will increase viewership.
"My curiosity is peaked," said Kim Johanson, 46, resident of Waltham and nurse at Leahy Clinic Hospital. "I think it will bring in a new segment of viewership because of the curiosity factor."
Johanson said she is a Republican and voted for Brown in the 2012 election, but with his move to Fox News, she is curious to see if he is going to be more conservative.
"I'm going to say he's going to do worse in Boston politically, but maybe he's seeking vice-presidency or Secretary of State," she said.
Edward Perriello, 54, resident of Wilmington and electrician for Comcast, said he is an Independent and seea Brown's new job at Fox News as a good thing for this reputation.
"I think [Brown's new job] is a good move," he said. "He's non-partisan and I don't think it will hurt him.I think Fox is probably wanting to have him on their side, so that he will tout their views, but I think it will be a good place for him to get his points across."