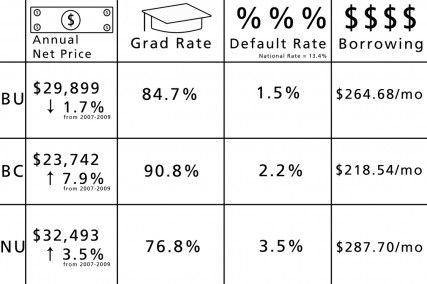 Boston University students and faculty said they find the College Scorecard, a new U.S. Department of Education online tool with information on higher education costs, to be helpful for prospective and current college students.
The White House and Department of Education unveiled the College Scorecard following U.S. President Barack Obama's State of the Union promise for an easier means by which to gauge the value of a university degree, according to a Thursday press release.
"Students have a right to know about cost," said Margaret Miller, president emerita of the American Association for Higher Education. "The piece that's always missing from these things though is the most important piece, which is what kind of learning occurs."
The database allows users to search for a college's annual tuition, graduation rate and loan information.
"The whole idea of the college scorecard is to provide information so consumers can make the best decision for their circumstances and preferences," said Jane Glickman, a spokeswoman for the Department of Education, in an email.
The average net price for undergraduate students at BU is $29,899 per year, according to the College Scorecard. This cost is rated as 'high' on the Scorecard's scale. However, average net price for BU decreased 1.7 percent from 2007 to 2009.
BU students borrow an average of $264.68 a month to pay for tuition, according to the report, which was also rated 'high.'
The database also shows 84.7 percent of BU students graduate with a bachelor's degree within six years, which is rated as a 'high' graduation rate.
BU graduates defaulted on student loans at a rate of 1.5 percent after three years, compared to the national average of 13.4 percent.
BU averaged lower than Northeastern University in all four categories, according to the College Scorecard. Boston College's average net price and borrowing are lower than BU's, but its average loan default rate and graduation rate are higher.
Glickman said the Scorecard is a great tool to give students and families sufficient information to make educated decisions about higher education.
Miller, who is also editor-in-chief at Change Magazine, said Obama's College Navigator, a predecessor to the Scorecard, comprised much of the same information and that the older database lacked information from the National Survey of Student Engagement, as does the current installment of the Scorecard.
She said including the survey, which tracks students' college experiences often correlated to learning, could make the Scorecard more comprehensive. There is concern the salaries of recent graduates are not necessarily emblematic of long-term earning potential.
"The problem with liberal arts schools is that a lot of these people go into professional schools," she said. "I don't know how this website is going to handle that question."
BU political science professor Doug Kriner said while the long-term implications of the Scorecard are not yet known, it could potentially cause lawmakers to address rising tuition.
"The Scorecard has the potential to shine a light on higher education costs and allow politicians to take public stands against these costs," he said in an email. "It is far from clear exactly how this would translate into concrete steps to coerce colleges into lowering higher education costs."
Fiona Donovan, a School of Management senior, said she already has access to the starting salaries of recent graduates of her college, a resource she finds helpful.
"It's good to know when you're really nervous about finding a job," she said. "It makes you less scared of your prospects."
Allison Zaitchik, a School of Social Work first-year graduate student, said easy access to information concerning tuition and loan default rates is an important tool in a world increasingly burdened by student loans.
"The whole system is screwed up [with] how expensive higher education is," she said. "It can really set people back. The job market is getting worse and people are reconsidering if [high tuition rates] are worth it."
Chelsea Bassler, a College of Arts and Sciences senior, said even the base information offered by the Scorecard could be helpful in the process of navigating the difficult choice of which college to attend.
"In general, [the Scorecard] could be very helpful," she said. "Ultimately it could help people plan for their future."