I recently read an interview with Aly Spaltro, the twenty-something brain behind ineffably original act Lady Lamb the Beekeeper, where she described her music as "pulpy," and after a few listens to her album (by few, I mean about 20 in the past week) and a few minutes with a thesaurus, I can conjure no description more fitting.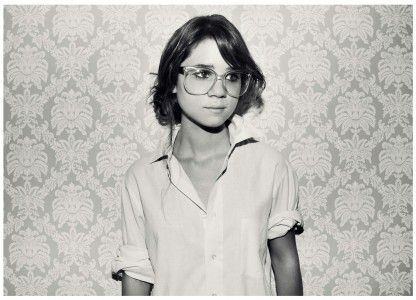 The Portland, ME native released her debut LP, Ripely Pine, this past week after gaining a solid fanbase opening for acts like Sharon Van Etten and Beirut in the Boston, New York and Portland areas for the past several years.
Critics are sure to churn out comparisons, as critics are wont to do with female singer/songwriter/guitarists, to the likes of Van Etten or St. Vincent, and the parallels are tangible. LLTB has traditionally commanded the stage alone, becoming known for her frenzied style of electric guitar overlaid with vocals that run from whispers to howls within seconds.
With Ripely Pine, however, Spaltro effectively nods to/transcends/tramples the girl-with-guitar paradigm, opting instead for tracks that run as long as seven minutes sans traditional pop structures. The songs, many of which weave tales of heartbreak and longing with gorgeous metaphors (a la "I placed my palm upon your collarbone and I wished to fall asleep deep in your marrow") twist and turn down unexpected paths of melody and tempo, effectively breaking down the traditional structure in favor of a stream-of-consciousness, intuitive progression that feels almost corporeally intimate. Standout track "Bird Balloons" feels like a six-minute descent into the depths of Spaltro's consciousness, simultaneously meaty and impalpable. You'll know what I mean when you hear it.
What seems most striking about the album is its sheer earnestness. Spaltro does not attempt to pigeonhole herself in genre or pander to any style or expectation. She has said that LLTB developed over many late nights spent working through dawn in the basement of a used DVD store at which she cashiered. After developing lyrical content through spoken word poetry, among other things, Spaltro spent countless hours learning the instruments so that she could put music to the words and lay down the melodies floating around in her head.
A feeling of urgency and purpose pulsates through Ripely Pine, that feeling that you sometimes get where you just have to write something down or record it or paint it or whatever, just to get it out of you. It's funny, but music that comes from that place of honesty just sounds different, arrests our ears and stays our hands held above the "skip" button. I don't think I've ever been more excited about a debut album than this one, because if the veracity and tenacity recorded on those 12 tracks is any indicator, we're going to be seeing a hell of a lot of great things from Lady Lamb the Beekeeper in the future.
Want to hear more? Lucky for you and me, Lady Lamb the Beekeeper is playing a special record release show this Friday at TT the Bear's in Cambridge.