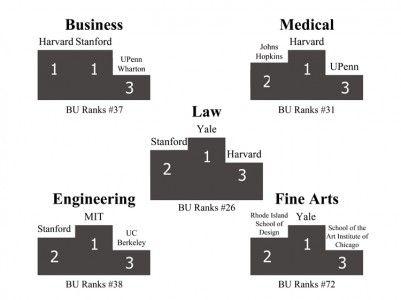 While a variety of both merit-based and need-based financial aid options exist for undergraduate students, Boston University's graduate student financial aid is entirely merit-based, which is a means of attracting the best students, BU officials said.
"What the graduate programs are looking to do is attract the best applicants and the best students," said Graduate School of Arts and Sciences Director of Admissions and Financial Aid Janette Countryman. "Boston University is a very well-known research institution, and they are trying to help with the research aspect."
Graduate and professional students must rely more heavily on student loans than undergraduates, as grants are only offered to undergraduates, said Heather Jarvis, a student loan expert who spoke about student debt relief at the School of Law Nov. 14.
"We're trying to promote access to higher education to people, whether or not they can pay for it out of their own pocket exclusively," Jarvis said in an interview. "Undergraduate education is the first and most important post-secondary education that's available."
Jarvis said the government focuses on providing aid for undergraduate students because not all undergraduates go to graduate school.
Master's program students are occasionally granted scholarships depending on their field, Countryman said.
"At the master's level, it varies," she said. "Some students, depending on the program, may take out loans, and some may get a small scholarship to help pay, but it varies by the program."
Countryman said some students attend graduate school only part-time and work on the side to help pay for their education. However, some are unable to do so with certain majors.
"If it's a one-year master's program, you're not going to be allowed to do that [work full-time], and take two classes per semester," she said.
Doctoral candidates, however, are offered five years of funding and sometimes an additional stipend for living expenses, Countryman said. Certain students are required to work for BU while they earn their degree.
"They may have to do some teaching, they may have to do some research," she said. "As long as they're making progress in their program."
Students should consider the cost of graduate school and the availability of aid as part of their decision-making process. The career path students wish to pursue following the collection of their master's degree should also have influence, Jarvis said.
"Some degrees pay off more than others from a monetary perspective," she said. "Many degrees can be extremely rewarding intellectually, but not end up getting you a high-paying job."
Jarvis said there are loan forgiveness programs available to students.
"People should definitely be thinking about all the ways they can help mitigate the cost of graduate education, including those kinds of loan forgiveness programs," she said.
Elizabeth Kinney, a first-year GRS student, said her expenses for her undergraduate education were different than her graduate school expenses.
"It's like comparing apples and oranges," she said. "It's different because grad students can take out more federal loans than they can take out as an undergrad. Also, your eligibility for financial aid doesn't depend on your parents income or financial income [in grad school]."
She said the amount of money she received played a role in her decision to enroll in BU for graduate school.
Kinney said she works odd jobs and freelances outside of school to help pay for her education. She also receives a research assistantship stipend.
"I don't know if I would be at BU if I hadn't gotten some sort of funding," she said. "Grad school is expensive, so I'll take any money I can get."
Kiva Kuan Liu, a College of Communication first-year graduate student originally from China, said she receives no aid, but came to BU for the opportunities it would afford her.
"My parents always wanted me to choose the highest education available I can achieve," she said. "My parents think if I come here, I'll find a better job here and stay here [in America].
Liu said the cost of tuition and the expense of living is a large burden for her family, and she knows only one graduate student at BU who received a scholarship.
"Only one of us got a scholarship and the rest of us have to take on the entire burden, including living, tuition and everything," she said. "It's the largest amount of expense my family has ever had."
Henry Han, a School of Management junior, said he will likely pursue a Master's in business administration after graduation. The cost of graduate school is an important factor, as he already must pay back his undergraduate loans.
"That's what I'm worried about right now, just returning all the loans to BU," Han said. "I'll find different, alternative ways to fulfill my career if I cannot afford it [grad school]."