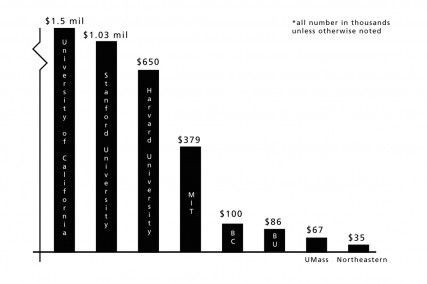 As fundraising increases at colleges across the country, including Boston University, BU's efforts to receive donations will allow it to continue growth and meet the demands of students, officials said.
Monetary gifts to schools across the country totaled $31 billion in the 2012 fiscal year, a 2.3-percent increase from the 2011 fiscal year, according to a Wednesday Council for Aid to Education report. BU's fundraising increased at a greater rate with $86,181,326 raised in the 2012 fiscal year, marking a 12-percent increase from 2011.
"We're playing catch up in this category [fundraising]," said Vice President of Development and Alumni Relations Scott Nichols. "But we are catching up quite fast."
Nichols said historically, fundraising has not been a focus at BU, something he and President Robert Brown are attempting to change.
"It's strange that the university has never had a formal campaign in its history," Nichols said. "[Fundraising] had not been a priority at the university before."
During the fall 2012 semester, BU announced its first comprehensive fundraising campaign, called The Campaign for BU, with a $1 billion goal, Nichols said. The campaign has both helped upgrade BU's credit standing with Moody's Investors Services and improved relations with alumni.
"We try to get our alumni and friends engaged, involved, educated about the institution and the importance of philanthropic support," Nichols said.
The campaign has raised over $460 million as of Feb. 2013 and is doing well due to university-wide improvement, Nichols said.
"We're seeing a lot of fundraising success because other parts of the university are strong right now. So we're seen as a good investment," Nichols said.
Other institutions raised about $500 million, with one breaking a fundraising record, according to the report. Stanford University raised more than $1 billion, becoming the first institution to do so in a single year.
Although funds raised by colleges increased from the 2011 fiscal year, the rate of increase did not, according to the report. Between the 2010 and 2011 fiscal years, gifts to schools increased 8.2 percent.
The fundraising levels of Stanford and BU cannot be compared on account of the history of the universities, said BU Spokesman Colin Riley.
"They [Stanford] have a culture and a history of alumni relations and fundraising," Riley said. "This is BU's first campaign."
Nichols said BU is applying its funds raised to projects such as the newly finished Center for Student Services, renovations to the School of Law and admissions center and the construction of New Balance Field.
Some students said internal investment is a sufficient way to increase donation funds and applicant interest.
"They [BU officials] want to expand [BU's] name and fame across the globe," said Urbashee Paul, a College of Arts and Sciences junior. "New facilities help attract students and alumni because they are inspired to spend money behind the school when they see it as a good investment."
CAS sophomore Taylor Millington said funds raised should be applied to mitigating BU's cost on students.
"They could be doing more for the scholarships," Millington said. "I would obviously love to see lower tuition, but I realize that they do a lot to keep it a nice place to go to school, and that has its expenses."
Sergio Reyes, a CAS junior, said he would prefer investments in less donor-oriented spots, such as building interiors, classroom space and Mugar Memorial Library.
"Facilities like the Center for Student Services are nice to show donors, but renovations in Mugar Library and places like that where classes actually take place would be nice," Reyes said.
Monica Adler, a Sargent College of Health and Rehabilitation Sciences junior, said she believes the focus on research funding of The Campaign for BU is particularly important.
"Research really puts the university in higher standings, and makes it more competitive," Adler said. "It might make more people want to come here."