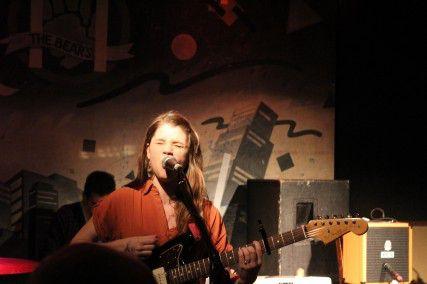 I wonder if this is what the forty-niners felt like when they found that first gold nugget in the river.
I first heard folk/rock-ish songstress Lady Lamb the Beekeeper, about a week ago, later to the game than much of the Boston scene that served as turf for the musician's roots.
After playing music around Boston, Maine and New York for the past few years — guitar and strange moniker in tow — Maine native Aly Spaltro returned to TT the Bear's on Friday to celebrate the release of her long-awaited debut LP, Ripely Pine.
Spaltro seemed absolutely in her element and smiled infectiously at the sold-out crowd as she remarked, "I can confidently say that this is the most special show, uh, ever, for me."
The New England native spent many years playing Boston venues like TT's, as well as frequenting the Allston hootenannies started by BU students several years ago, and called her show Friday a homecoming of sorts.
Lady Lamb wound her way through much of her new record as well as some unrecorded tunes whose YouTube popularity made them crowd favorites regardless. Although she has traditionally played solo due to her eclectic arrangements and unexpected changes in tempo and melody, she played about half of the set with a full band that included stellar openers Xenia Rubinos and Cuddle Magic.
The band undoubtedly captured the big sound and multifaceted feel of the arrangements heard on the record, and backed Spaltro with no less than a string trio, bass clarinet, trumpet and synthesizer among other instruments. When I say big sound, I mean that this record is one you can sink your teeth into, one that feels simultaneously intriguing yet familiar, one that grows with every listen.
Even when the band left the stage to Spaltro and her guitar, the songs still sounded big, her voice visceral and each pluck and strum deliberate and emotive.
At one point, her plaintive cry and impressive banjo arrangement on slow-folk jam "Regarding Ascending the Stairs" pulled the audience in and stilled the crowd despite the thumping bass emanating from The Middle East Downstairs, the venue that sits just below TT the Bear's. Spaltro even joked about it, singing along to a few bars of a "Seven Nation Army" remix before diving right back into her set with an earnest energy.
After discovering her, falling in love with her record and being floored by her live show in about a week flat, Lady Lamb the Beekeeper has already become one of my favorite things about 2013 and should probably become one of yours. The music video for her first single debuts on Spin.com today, and that's just the beginning.