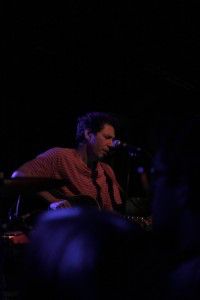 I have not been faithful to Yo La Tengo.
I chanced upon Yo La Tengo as an opener for The National in 2011, and I fell head over heels in love. I had heard of the band, but their name had melted into the same funky indie vocabulary that melds Beach House, Best Coast and Beach Toast in my mind.
But after seeing Yo La Tengo, no longer would there be confusion. Guitarist Ira Kaplan's electric guitar intertwined feedback with ecstasy, reincarnating the spirits of Hendrix and early Townshend that I had always longed to hear live. And as a whole, Yo La Tengo had a certain charisma that pulled the audience into the performance. Yet, I couldn't quite articulate the band's intrigue at the time, mostly because Kaplan's guitar had melted most of my face. One thing was for sure: I was in love with Yo La Tengo.
In the same way that many early 21st century romances blossom, I turned to the Internet to pursue Yo La Tengo. Originating in 1984, husband and wife Ira Kaplan and Georgia Hubley infused their love into a marriage of guitar and drums onstage, cycling through a series of bassists until finally wedding James McNew into the group in 1991. Breaching these 29 years of music, encompassing 13 studio albums, I suddenly became overwhelmed. There was too much "history." I couldn't commit to such a complex relationship; I needed that instantaneous gratification that radiated from the stage during their act.
Perhaps even more confounding, I couldn't pin down exactly who was Yo La Tengo. Within their catalogue, soothing instrumentals followed piercing guitar, ethereal abutted visceral. Our relationship had become very complicated very quickly, and I backed away. But I never lost hope that I would see Yo La Tengo again some day.
And so, upon arrival at Paradise Rock Club on the eve of Valentine's Day to revisit an old flame, I entered knowing that I could never fully understand Yo La Tengo. Instead, I could only hope to again experience their ability to transport audiences out of the prescription of everyday life and their ability to make audiences fall in love.
Beginning with a set dedicated to their softer catalogue, Yo La Tengo established a momentum to carry the audience through the entire concert. Songs like "Ohm," "I'll Be Around" and "Cornelia and Jane" combined whispered vocals, undulating sunny guitar, and brushed drumheads to create a hypnotic fluidity that not only captivated, but synched the audience in a groove so that they too helped keep rhythm. Such a momentum is a difficult phenomenon to describe because words are insufficient to capture the visceral, but the sensation is analogous to when a love interest just "gets you." It's an unspoken understanding that you both are traveling on the same wavelength.
And on this same wavelength, wrapped in a shared momentum, Yo La Tengo carried the audience into the electric set of their concert. While just as hypnotic as the acoustic set, Kaplan's electric guitar punctuated the smooth comfort the first set had established. Uninterested in catchy guitar hooks and riffs, Kaplan translates chaotic emotion from his fingertips into guitar pickups with a voice scarce in 21st century guitar playing.
Kaplan's guitar pandemonium is not only a brilliant practice of juxtaposition, but a preservation of the lost understanding of the guitar as an extension of human expression: a sixth human sense. By slamming his guitar against the floor, his amplifier, the mic stand, Kaplan imparted both literal and figurative feedback to the audience. The divide between performer and audience had disappeared and music was again about love.
Just as I had hoped, I once again fell in love with Yo La Tengo. But I am not in love with a particular song or lyrics — and I probably won't bury myself in their catalogue in the weeks to come. And I am not in love because Kaplan's guitar playing destroys the confines of the traditional artist-audience relationship.
I love Yo La Tengo because their love is unconditional. Yo La Tengo personifies their name, which in Spanish translates to "I've Got Her." Yo La Tengo doesn't care if an audience knows their catalogue or if fans have been unfaithful. If an audience listens, Yo La Tengo folds them into the undulating rhythms and penetrating emotion they've used as momentum to propel through the last 20 years. If you simply listen, they've got you.