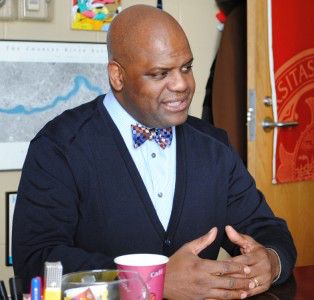 Dean of Students Kenneth Elmore said working so closely with college students is an "absolute joy" and one of the most interesting and exciting jobs he could ever imagine.
Elmore, along with Assistant Dean of Students John Battaglino is well known around campus and the tandem's popular twitter handles are all over social media. But many students don't know that Battaglino tears up to the original version of the movie Brian's Song, or that Elmore was a superstitious host of a television show on PBS called Reality Check.
Little known facts
When Battaglino is not advising  Student Government, he said he enjoys listening to Norah Jones, reading books and being with his wife on campus.
"I read Breakfast with Buddha," Battaglino said. "Maybe that's just where I am in my life. I'm reading a lot of mindful, spiritual books."
Battaglino and his wife live in Shelton Hall, where his wife is the hall director. They have lived in different locations on campus for 13 years.
"I'm digging living on a college campus now, since I never had that college experience," Battaglino said.
This easy access to campus allows him to tweet about things related to students. He has more than 5,000 tweets and 3,000 followers on his official account.
In addition to tweeting at BU's students, Battaglino is planning the final stages of senior week.
The week includes a day at Six Flags and a boat cruise on the Boston Harbor, exclusively for seniors. After planning is complete, he will immediately begin work on freshman orientation while overseeing student activities at the Howard Thurman Center.
Reading and writing books
Inspired by his favorite authors, including Ralph Ellison and Virginia Woolf, Elmore said he is trying to write a book. He has hundreds of notebooks that he carries around with him to collect his ideas. He said he is not only working on a book about a world without music, but a story about Cupid.
"There's some lessons from Cupid for all of us," Elmore said. "Cupid is this wonderful combination of music and love and empowerment and wit and mirth."
Elmore most often demonstrates his wit on his twitter account, followed by over 12,000 users. Despite having over 3,000 tweets, he admits he is not necessarily the most media-savvy.
"It's always embarrassing when I'm on Twitter and I think I'm direct messaging someone, and it turns out that I'm not and that everyone's seeing the feed," Elmore said.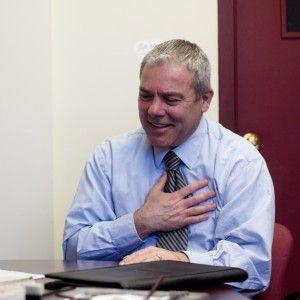 Deans' relationship with each other and students
Although both are extremely busy, Elmore and Battaglino maintain a strong relationship. Elmore said he considers Battaglino as "a brother."
"He's a talented person, and he has incredible intelligence, in terms of relating to people," Elmore said.
Battaglino also spoke highly of Elmore.
"He is the smartest man I know, and also one of the most caring and thoughtful and loving human beings," Battaglino said.
A number of students also had had kind words about the deans.
College of Fine Arts senior Janette Martinez said it was easy to work with Battaglino in the fall of 2012 when they organized the standard party, which is a fall celebration for seniors.
"John has huge ideas, and then he lets you just run with them, and I love that because he gives you a lot of responsibility when he gives you a task," Martinez said.
Ben Heyman, a College of Communication senior, said he got to know Elmore over the years because he would tweet at the Dean until he invited Heyman to come to his office and say hello. Now a senior, Heyman said he has really appreciated Elmore's mentorship.
"He's helping me network and learn how to network and he's just someone who's really approachable. I know that if I ever have an issue or need someone to talk to, I always have him there," Heyman said. "He's pretty great."
Both Elmore and Battaglino continue to welcome students to get to know them throughout their academic and professional careers, which they can attest to being fostered by personal connections.
Beginnings at BU
Battaglino managed bookstores on college campuses for several years before he returned to Boston in 2000 and became Associate Director of Housing.
Elmore was the Associate Director of Residence Life at the time, and the two worked together before Elmore went off to practice law. When Elmore returned to BU and became the Dean of Students, he offered Battaglino the assistant dean position.
"I was flattered and really thrilled," Battaglino said. "I said 'I don't know anything about student affairs,' and he was kind enough to mentor me a bit, and everything's worked out pretty well."
Both deans have special connections to BU, which they said motivates them to do their jobs. After receiving his undergraduate degree in physiological psychology from Brown University, Elmore received his Master's in Education from BU.
Battaglino has three children, two of whom graduated from BU and a third who is a junior now. "I saw what this university did for my children, and is doing for my youngest, and I say 'Man, I want to be a part of that growth in a young person's life, I want to be a part of that conversation,'" Battaglino said.
His son, John, graduated in 2010 and his daughter, Brittaney, graduated in 2012, both with degrees from the School of Hospitality. His daughter Anya is a junior studying marine biology.
Strengthening the family ties, Battaglino's father served on the Board of Trustees.
Elmore too said he finds motivation for his work from his family.
"My parents grew up in the segregated South," Elmore said. "[They] didn't get the chance to go to college. My grandparents most certainly did not. They were probably slaves at some point in their lives. For me to be able to live out a dream that these people have had for me and to be a testament to their good work is what motivates me."
Though both deans work at a university now, Battaglino says that most students would be surprised to learn that he didn't immediately jump into college after graduation.
He received his bachelor's degree in 2008 in Management Studies from BU's Metropolitan College and his master's degree in higher education administration from School of Education in 2010.
Elmore met his wife, Abby, when she studied at BU in the College of Liberal Arts before graduating in 1986. Elmore had a lot of friends at BU during his undergraduate years, so the two ran into each other's circles.
"I have married the most wonderful person, and I smile every time I think about her," Elmore said.
The pair have a son who is a freshman in high school, and a daughter who is in the eighth grade.
Open office hours
Both deans encourage students to approach them on the street or in their offices. However, students must be aware that Elmore and Battaglino have personal pet peeves.
A self-proclaimed packrat, Elmore said he hates it when people touch and re-arrange things in his office. Battaglino does not appreciate tardiness, so be sure to show up on time!