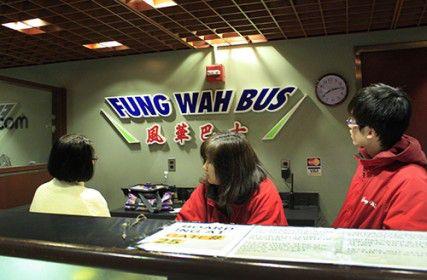 The U. S. Department of Transportation ordered Fung Wah Transportation Inc. to remove its buses from roads Monday until company officials prove they can safely maintain a fleet of motor coaches.
"DPU [The Massachusetts Department of Public Utilities] has never had a problem of this magnitude with a single company," said DPU press secretary Mary-Leah Assad. "Obviously, once we saw there were problems, we dug deeper and saw it was a bigger issue."
Buses were ordered off the road after inspectors found large structural cracks in 21 of the 28 buses in the fleet, Assad said. Although the DOT suspended services for Fung Wah, the company has been able to charter third-party buses.
One bus, No. 72, was found to have four undercarriage frame cracks including at the drive axle, at the cross member for the motor mounts and at the differential and over the right front steering axle, said Anne Berwick, chair of DPU, in a letter to the Federal Motor Carrier Safety Administration Friday.
In her letter, Berwick said the FMCSA should pursue an Imminent Hazard Order for Fung Wah's blatant disregard for federal safety regulations and for putting the company's own drivers, passengers and the motoring public at risk.
"In our opinion, Fung Wah appears to meet the profile of the 'high risk' passenger carrier," Berwick said in the letter. "… The Department respectfully requests that the FMCSA immediately declare Fung Wah an 'Imminent Hazard' and order it to cease operations unless and until a Corrective Action Plan is developed and approved to eliminate this safety hazard."
The DOT order came after Berwick requested the FMCSA suspend further busing.
The owner of Fung Wah agreed to take 21 of the company's 28 buses off the road Saturday at 5 p.m., but Joseph DeLorenzo, director of the Office of Enforcement and Compliance at FMCSA, issued an order to Fung Wah Monday to halt all buses.
"You may not load or transport any additional passengers, nor may you operate any commercial motor vehicle listed on schedule A in interstate and intrastate commerce while this order is in effect," the order stated.
Several Boston University students said the order to stop all Fung Wah travel is not surprising.
"To be perfectly honest, it [taking Fung Wah] has always been a very frustrating, annoying experience," said Victoria Price, a College of Communication senior. "I put up with it because they're the cheapest way to get to New York."
Price said while only the heating system broke while she was on a Fung Wah bus, the service was unreliable.
"Aside from the buses themselves, they're really bad about scheduling," Price said. "Last time I took them, I was supposed to get on a bus at 10:30 a.m. and I didn't get onto the bus until about noon."
Despite poor service, a number of students said Fung Wah's low price made it a viable option for travel.
"It seems okay to ride and I'm sure they will do a good job with bouncing back," said Amanda Chivil, a College of Arts and Sciences sophomore. "I will still probably ride with it. For a poor college student like me, it's the cheapest option."
Chivil said she takes the bus when she needs a ticket to get to and from home at the last minute and Fung Wah is the fastest bus option to New York.
Conor Glover, a CAS senior, said the investigation is not surprising because of news he has heard about the buses crashing in the past.
"I heard horror stories, but from what I remember it just went really fast," Glover said. "It doesn't seem like safety is a main concern for them, especially based on what I heard and what I knew previously — it didn't seem like a top priority."
Margaret Waterman contributed to the reporting of this article.