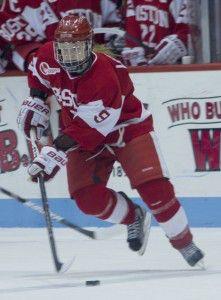 Fresh off of clinching the top seed in Hockey East, the No. 4 Boston University women's hockey team will face the University of Connecticut in a quarterfinal matchup of the Hockey East Tournament at Walter Brown Arena Saturday afternoon.
The Terriers (23-5-3, 18-2-1 Hockey East) are coming off a weekend series against Connecticut (3-28-3, 1-19-1 Hockey East), during which BU was able to complete its season sweep of the last-place Huskies and earn the regular season Hockey East championship.
However, the title did not come easily. Early in Saturday's game, BU faced a 5-1 deficit on its home ice. But thanks to six unanswered goals, including a four-goal surge in the second period, BU ultimately walked away with a 7-5 victory.
"We missed a couple of assignments in the first part of that game, and we've got to make sure that doesn't happen," said BU coach Brian Durocher. "You're not coming back from three or four-goal deficits too often."
Sunday's game in Storrs, Conn., required no miraculous comeback, as a power-play goal by senior forward Jenelle Kohanchuk at the 17:00 mark of the first period allowed the Terriers to break a 1-1 tie and take a lead that would be untouched by the Huskies over the remaining 43 minutes. BU went on to win 4-2.
The two victories extended BU's winning streak to five games, which Durocher believes gives his team a strong mindset going into the Hockey East Tournament.
"It gives you a real positive confidence," Durocher said. "It lets you know that you're able to finish the job … We've put together five games here where, more than anything else, it gives the kids a good running start confidence-wise going into the playoffs."
Freshman forward Sarah Lefort leads the team in goals, netting 19 this season. She has goals in all three games against the Huskies, including four over the past weekend. Her performance against Connecticut earned her a fifth Hockey East Rookie of the Week nod.
Durocher praised his star rookie, and said he expects her to be an integral part of BU's playoff run.
"She's obviously a kid who has shown that she can score at this level, and on certain nights score in bunches," Durocher said. "She creates a tough matchup for a lot of people because she's a strong kid, she has a great shot and she really goes to the net hard.
"She can score goals from 45 feet out with a wrist shot. She can get plenty of goals right down in the blue paint, right at the crease, and that makes her a multifaceted kid, not just somebody who's scoring with a shot or at the net."
Connecticut is a young team, as its top five scorers are either freshmen or sophomores. Sophomore Kayla Campero leads the Huskies with 18 points on nine goals and nine assists, including two goals and an assist over the weekend. Freshman Michela Cava, who had a goal and assist on Saturday, is right behind Campero with 17 points on 10 goals and seven assists.
Durocher said rather than focusing on the areas in which Connecticut excels, his team needs to focus on its strengths.
"We'll concentrate on what we do," Durocher said. "I feel like we have good depth throughout our team, and any one of those four lines can do a good job out there. Our goal is to make sure we're picking people up, making sure we're not forechecking with reckless abandon and getting two and three people caught deep.
"It's the little things like that that add up. If we can take care of business on some of those technical things then I'd like to think we've got enough talent to put pressure on them, and hope we get ourselves a win."
In 2012, the Terriers won their second Hockey East championship in double overtime against Providence College, 2-1. In order to come away with the trophy for the second straight year, Durocher said a quick start is key.
"This is a game of hockey that's usually a race to three, or maybe a race to four goals, and if you get one early in the game, it gives you momentum," Durocher said. "It gives you a little extra jump in your step. It gives you a push.
"Hopefully we can do a good job of quick starts. And if one of the games or some of the games it doesn't happen, we've just got to buckle down and keep wearing people down and go get the win."