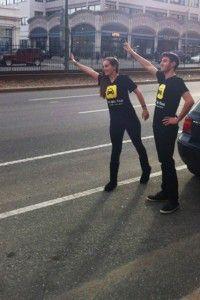 During the few days before spring break, many students cannot find someone to split the pricey $30 cab fare to Boston Logan International Airport. However, with the new mobile application Split My Taxi, students can do just that. This free app, created by three college students, helps students match up with other people to share the taxi fare.
David Danesh, a School of Management sophomore at Boston University, has been the face of the app that was recently launched at Boston University to help students save money. Danesh helped Adam Eagle, a freshman studying computer science at Massachusetts Institute of Technology and David Zadok, who is pursuing his Masters degree in Business at Brandeis University, create the app.
Beta Testing at BU
Due to the university's grand population, as well as the students' generally candid social behavior and openness to new ideas, Split My Taxi is only opened in BU, Danesh said.
"There are 16,000 students … they like trying new things," Danesh said.
Because the app is only being tested in the BU community, BU students will only be matched up with other BU students, rather than riding for 10 to 15 minutes with a student from another school.
Students can enter their BU email address or their Facebook account to sign in. To get a taxi, they input their current location, destination and the optimal time to be picked up. The phone numbers will not be disclosed until the user finds a good match and presses a button, which sends the potential cab buddy the initiator's phone number. Those two can then message each other and arrange their cab ride.
Saurabh Mahajan, a College of Arts and Sciences freshman and Student Government spokesman said SG is happy to give Split My Taxi its support and endorsement.
"It's something that we think is a great idea and we think it's something that students can really benefit from," Mahajan said. "Essentially our role in [Split My Taxi] is associating our name with it. The extent of our involvement is basically saying that we support this idea because it's a service that benefits students in a great way. It reduces their costs to the airport, it helps them, it is environmentally friendly, and it just helps them get home in a really safe and convenient way."
Early Beginnings

Eagle said he and Zadok initially thought of a dating app for university students in December. The idea was to create a profile, find a good match, ride with that person in a taxi and then decide after the ride whether they liked that person or not. Eagle said he decided to alter the app to be a more useful resource.
"It was a simple conception but [Split My Taxi] was an actual practical use," Eagle said.
In high school, Eagle designed Monkey Manic, a game in which the objective is for a monkey to collect fruits and continue on to the next level. He launched it in the U.S., but it gained mass popularity in China, reaching over 15 million users.
Eagle said he did not charge for any of his games and will not charge students for downloading Split My Taxi either.
"The app itself is to help people save money," Eagle said. "I want to make sure that people can find the app easily and match up with people easily."
Eagle said the biggest concern is whether students would be willing to share a space with a stranger for about 15 minutes. He wants students to feel comfortable and safe when contacting and traveling with that other person.
Getting the Word Out
Danesh's desk has a stack of paper with scribbled notes on the time and location of the lectures and clubs at which he has been scheduled to speak about the app. He is responsible for getting the word out to as many people as possible. Being a one-man marketing team, Danesh said he spends sleepless nights spamming the walls of clubs on Facebook and updating the Split My Taxi Twitter and Instagram account.
"I basically joined almost every student group on Facebook," said Danesh. "One student commented, 'Split My Taxi has successfully spammed 98 percent of BU student groups.' So I realize I should calm down a little bit."
Danesh admitted to skipping some classes in order to publicize the product before Spring break, but he said it was for a greater good.
"Sometimes you just have to put the GPA to the side," said Danesh. "When you're working with a student from MIT and Brandeis who has an amazing app, I cannot say 'no' to that."
He said he is unsure whether the message to use the app was broadcasted effectively or if there was a good response from the students.
However, after realizing BU students are having trouble creating an account due to overcapacity, he smiled, knowing that their customers are using and liking the trio's creation.
BU reactions to the product
Since Split My Taxi is relatively new, some students said they are still trying to familiarize themselves with this new technological innovation and questioning the usage and safety.
Valentina Liu, a CAS sophomore, said she would use the application because it might save her money. However she also said she has concerns regarding her safety, even if she is riding with another BU student.
"What if the other person sounds really nice on the phone, but not in person," Liu said. "I'm also concerned, as a girl, for my safety when I'm traveling with a stranger."
As for possible alterations or upgrades in the design, she said she would like if the app would show the "hotspots" in the area. Instead of waiting around in a place where there are few BU students, it could locate areas where there are many students getting picked up by a taxi or requesting for one.
"It's a great way to save some extra cash because it's basically carpooling," said Rania Ezzo, a CAS sophomore.
Ezzo said she used the app once before to take a cab from her dorm in South Campus to Newbury Street. The app matched her with another girl from BU who was leaving from the South Campus area and headed in the same direction. She said the biggest challenge was figuring out how to split the fare.
"We both saved money because we split the cab, but the splitting of the cab is not actually built into the app and you have to work that out beforehand," she said.
Ezzo said she would use the app again because taxi fare is often expensive.
"I would definitely be up for using it again, especially riding to and from the airport. I spend a lot of my money doing that," she said. "It ranges from anywhere between $50 to $70."
Ezzo said the app is convenient, but could also be a way to meet new people.
"Since [the app is] only for university students, I feel like it's a lot safer than riding with some random stranger," Ezzo said. "I feel like the idea is more for convenience, but you never really know where you'll meet a friend."
Other students, such as CAS sophomore Samantha Chasse, said they would rather save even more money by taking public transit Chasse said she takes the T and will continue to take the T, even if it is a longer ride. Furthermore, she said scheduling with another student may be time-consuming and a hassle.
"Taking the T is still cheaper than a cab," said Chasse. "Also, my concern is coordinating with the other person. What if the other person didn't show up?"
Professional opinion for moving forward
SMG professor Kathy Kram, who specializes in organizational behavior, said she believes students will find this app valuable. However, she did express concerns regarding the safety when being matched with a stranger.
"If [the application] shows the gender, women can decide if they prefer to be matched up with another woman in order to be safe," Kram said.
The three creators have no intention of charging for the app thus far, but Kram said if they decide to do so in the future, she advised them to conduct further market research, for example, of how often students take a taxi. That decision will have to depend on whether the students find it useful on a regular basis.
The young entrepreneurs are continuing to develop their product. Eagle is coding a function for the application with which students can book a taxi online. The project will expand to Harvard University, MIT, Northeastern University and all major universities in Boston within the next few weeks before students head out on their Spring break, Eagle said.