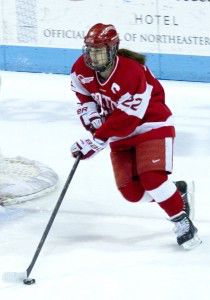 Two members of the Boston University women's hockey team received yearly Hockey East awards, which were announced Wednesday.
Freshman forward Sarah Lefort was a unanimous selection to the All-Rookie Team, after totaling 28 points (14 goals, 14 assists) in conference play this season, second best among all Hockey East freshmen.
She had a total of 19 goals during the regular season, second on the BU squad behind her linemate, senior Jenelle Kohanchuk, who has 20.
"Every year you always hope you'll have players that make it to the All-Rookie team," said BU coach Brian Durocher. "There's only a select few, but as you go recruiting, you hope you get some people who are impact players. Sarah's been just that this year.
"She's a consummate power forward, she's a goal scorer, she's somebody who will go to the net and play hard along the boards … she's a real threat out there at all times."
Lefort joins forward Haley Skarupa of Boston College and forward Molly Illikainen of Providence College as one of three unanimous selections. BC forward Dana Trivigno, BC defenseman Lexi Bender and University of New Hampshire defender Alexis Crossley were also named to the team.
Senior co-captain Jill Cardella received the Sportsmanship Award, which is awarded in recognition of clean play on the ice. Cardella only collected eight penalty minutes in 21 conference games this season, and 10 penalty minutes during all contests. In her entire career at BU, Cardella has never missed a game. Additionally, she added two goals and 22 assists during the regular season.
Durocher had strong praise for the dedicated play of the Rochester, N.Y., native.
"She's always somebody who respects the game and appreciates everything about the game," he said. "… In every facet she's somebody who plays the game the right way — plays it hard, but doesn't spend a lot of time in the penalty box. She's a great teammate and a great leader for the program."
The awards will be presented at the 11th annual Hockey East Awards Banquet Friday evening in Hyannis before the semifinal matchups Saturday.