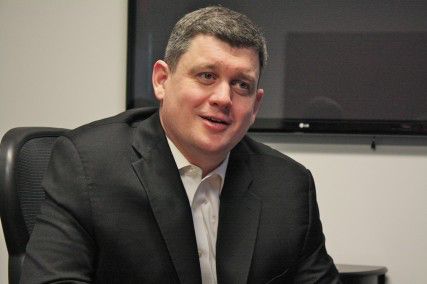 City Councilor John Connolly has known politics his whole life. His father Michael Connolly is former Mass. Secretary of State. He was on the debate team and in Model United Nations in high school. He attended Harvard University to study government and was elected to the Boston city council in 2007. On Feb. 26, he initiated another significant step in the political ladder by announcing he will run for Boston Mayor in the November election.
"I made this decision to run no matter who runs, and we have a plan to win no matter the field," Connolly said. "I am fully prepared no matter who decided to run. I'm running for mayor to transform our public schools and to focus on bringing new energy and new ideas to Boston city government."
Connolly, a Boston Democrat, said he has had a desire to focus on education since he was young. He grew up in Roslindale during the time when public schools were becoming desegregated.
"I grew up getting the best from the city, but very mindful that a lot of young people were not getting the same opportunities," he said. "That really triggered in me the desire to give back after I graduated from college."
Connolly became a middle school teacher in New York for two years and then moved back to Boston to teach for another year.
"It really gave me a driving passion to make schools work because I saw how a good school can transform lives," he said. "This really fed my belief in the importance of great schools in our cities, and from there I wanted to make an impact in a bigger way for all schools, which made me run for city council, and now mayor."
Michelle Novelle, 49, a resident of Roslindale and a doctoral candidate at Boston University, said Connolly does not jump to conclusions and reaches out to people to learn more about the issues.
"He is sincere and he is not afraid to say what he believes," she said. "He stands up for what he believes in, as shown during times as a city councilor, and I am thrilled that he is deciding to run for mayor."
Thelma Burns, 76, a resident of Dorchester and retired educator for Belmont Public Schools, said she agrees with Connolly's focus on education.
"We need change," she said. "We always encourage our students to go to school and come back here to use their tools. We need to give these young people a chance."
Connolly said Boston Mayor Thomas Menino has done well with education in his tenure.
"I love the Mayor, and he has put his heart and soul into this city for 20 years," Connolly said. "I'm not going to run a negative campaign. I'm going to run a campaign focused on ideas for Boston's future and the belief we have to be bolder when it comes to our schools and more innovative when it comes to Boston's future."
Connolly said he very much enjoys spending time with his family, but one of the hardest parts of his job is trying to balance home life and work. However, becoming mayor is one of his life-long dreams, he said.
"I'm only five years into elected office and I want to spend every working day trying to build a great future for Boston and, particularly, to transform our schools," he said. "So whatever I do will somehow help create opportunity for children in the city."
Menino has not yet announced whether he will run for reelection, but he told NPR on Tuesday that he enjoys his position.
"I love this job and I've got a lot more to accomplish," he said.
Novelle said she respects Menino and his accomplishments, but it might be time for a change in leadership.
"I feel like the moment has come," she said. "Menino has done a good job, but I'm really excited about someone new stepping up."