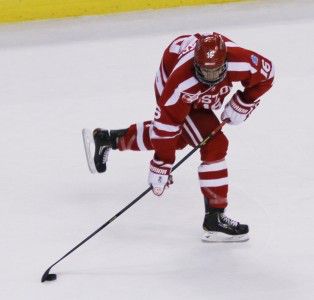 It was not the biggest piece of news related to Boston University men's hockey goalies this week, but the No. 19 Terriers (16-15-2, 13-10-2 Hockey East) have landed goaltender Shane Starrett of Selects Academy as a recruit for the 2014-15 season. Starrett announced his commitment Monday on his Twitter account, saying, "One of the happiest days of [my] life. Officially going to be a Terrier."
Starrett posted a 24-12-4 record with a 1.90 goals-against average and .915 save percentage while with the Selects Academy U18s. The Bellingham native and former Catholic Memorial netminder was named the No. 35 goaltender on the NHL Central Scouting's Midterm Rankings of North American skaters for the 2013 NHL draft.
The 6-foot-5, 180-pound goalie was born in July 1994, making him only three months younger than freshman forward Sam Kurker. According to East Coast Militia's Facebook page, Starrett is committed to come to BU for the 2014-15 season.
Junior backup goalie Anthony Moccia will graduate next spring, leaving an open roster spot for Starrett in 2014.
Parker sees improvement, potential in Kurker
In his first 28 collegiate games, Kurker has two goals and two assists. As a rookie who will not turn 19 until April, he has faced a learning curve after leading St. John's Prep in scoring last year and being drafted in the second round of the NHL Draft by the St. Louis Blues.
However, BU coach Jack Parker said he envisions Kurker turning into a player comparable to former Terrier Alex Chiasson — the player indirectly responsible for Kurker coming to BU as an 18-year-old instead of playing elsewhere for another year.
"I see him being a power forward for us, a guy that can play on the first few lines," Parker said. "A guy that might get a chance to play on the power play. That's what we recruited him for. But he came here a year early.
"He was supposed to be a 19-year-old freshman, but then we lost Alex Chiasson, so we brought him as an 18-year-old freshman."
Kurker, 6-foot-3 and 210 pounds, has the potential to be a physical presence among a group of forwards who don't throw their weight around much. His 32 goals in 24 games last year prove that he can score, albeit against very different competition, and Parker said he expects Kurker to become a reliable source of offense, as Chiasson was.
"They're different players," Parker said. "Chiasson was a little bit more clever, but [Kurker is] a little bit bigger, a little bit stronger and much more physical … He's as good a skater. He might not be as agile, as quick from here to there, but he gets up and down the ice.
"I'm surprised that he is not getting more goals in the second half, because he is playing much better. He looks like he is much more confident. And he is moving the puck better and shooting the puck better."
Scoreboard watching
The Terriers are No. 19 in the USCHO.com national poll, but what matters most at this point in the year are the PairWise rankings, where they're tied for 17th with Union College. In the Hockey East standings, they are fifth with 28 points: four fewer than the first-place University of Massachusetts-Lowell, three behind the University of New Hampshire, and two behind Boston College and Providence College, tied for third.
If the regular season ended today, BU would be unlikely to make the national tournament without winning the Hockey East tournament. Wins in its final two games — against a 9-19-4 Northeastern University team — would not give it much of a boost in the PairWise, which ranks teams largely based on their performance against other teams that have a chance at the tournament. However, losing would obviously only hurt the Terriers' chances further.
In the Ratings Percentage Index (RPI), BU ranks 21st. RPI measures a team's success based on its winning percentage, the winning percentage of its opponents and the winning percentage of those opponents' opponents.
According to USCHO, the Terriers have also faced the seventh-toughest schedule in the nation, stronger than any other Hockey East team (a schedule that includes the University of North Dakota and the University of Denver, ranked seventh and tied for eighth in the PairWise respectively). During the first semester, BU faced the strongest schedule in the nation to that point and went 10-5.
Entering the season's final weekend, UNH (18-8-6, 13-7-5 Hockey East), BC (19-10-3, 14-9-2 Hockey East) and UMass-Lowell (21-9-2, 15-8-2 Hockey East) are tied for fourth place in the PairWise. Providence (14-11-7, 12-7-6 Hockey East) is tied for 22nd and Merrimack College is tied for 31st.