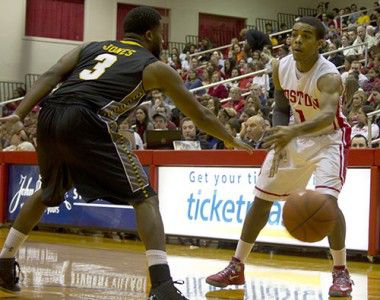 If someone looked at the record of this year's Boston University men's basketball team after its first five games, odds are he or she would have said, "Better luck next year."
Despite starting the season 0-5, the Terriers (17-12, 11-5 America East) were able to go on a tear, especially during conference play when they won six of their last seven games to earn an invitation to the CollegeInsider.com Basketball Tournament.
"I definitely saw this in the team's future," said BU head coach Joe Jones about the opportunity to play in the postseason. "If you look, we could've been 4-1 or 5-0; we played tough teams on the road and just could not finish down the stretch."
To start off the 2012-13 campaign, the Terriers fell in a tight game against Northeastern University at Matthews Arena. With a two-point lead and 10.7 seconds left on the clock, the Terriers simply needed to play stout pressure defense in order to preserve the victory.
Unfortunately for the Terriers, guard Demetrius Pollard and the Huskies (20-12) had other plans in mind as a screen set Pollard free with two seconds on the clock, more than enough time to get the winning shot off.
The loss foreshadowed the next month of BU basketball. It took 19 more days for the Terriers to earn their first win, a 74-44 rout against Coastal Carolina University. It took another two months for the team to eclipse the .500 mark.
Despite their early troubles, the Terriers were able to rally together and run through America East opponents during the second half of the season, especially during the final stretch when they won six of their final seven games.
As a result of the second-half surge, the Terriers will be in Reitz Arena in Baltimore to take on Loyola University-Maryland in the first round of the CIT Tuesday evening.
While BU features several dynamic players, Loyola (21–11), which finished second in the Metro Atlantic Athletic Conference, is led by its own big three.
"They are a very good team," Jones said. "They've got great size, good depth up front. An experienced team, they defend and rebound well and execute their offense very well and play to their strengths."
In the backcourt, BU freshman guard Maurice Watson Jr. will be matched up against Loyola junior Dylon Cormier, the team's top scorer, who tallies 16.5 points per game. Watson will have to do his best to contain Cormier, especially on the drive, as the 6-foot-2 Cormier has a height advantage over the 5-foot-10 Watson.
Meanwhile, freshman guard John Papale will be matched up against senior Robert Olson, the team's best 3-point shooter, averaging 2.1 threes per game.
Graduate student Erik Etherly, Loyola's second-best scorer (15.9 points per game) will be matched up against the lanky sophomore forward Malik Thomas and sharp-shooting junior forward Travis Robinson.
For the sophomores and upperclassmen on BU's roster, Etherly will be a familiar face, as he played across town at Northeastern before transferring to Loyola.
Jones said the Terriers will have to make adjustments in several facets of their game in order to overcome the Greyhounds.
"We're going to try and mix up our defenses against them," Jones said. "We have to use our quickness as an advantage and score in transition.
"Taking care of the basketball and rebounding are the most important. Turnovers lead to easy points for them, and holding them to one shot per possession is key as well."
Even after a loss against Stony Brook University Feb. 28, Jones said BU would be playing in the postseason. Jones was dead on, and with a strong tournament performance, this mid-major team could make some noise as it gears up to move to the Patriot League next year.