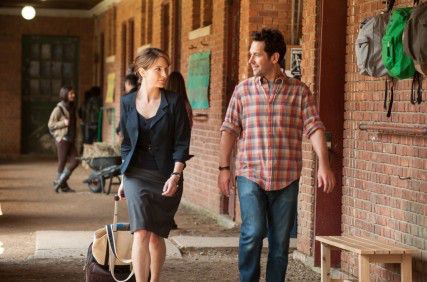 The Millennial generation has learned a lot from Tina Fey. From how to use satire to influence a Presidential election to how to best shotgun a pizza, Tina Fey has been a friend, a sister, and a role model to many for the past decade.
But in March 2013, Tina Fey is at an impasse. Adrift from the momentum that propelled her from Chicago's Second City to Saturday Night Live to 30 Rock, Fey is now in uncharted waters. Armed with a new, but undeveloped NBC contract, Fey is perhaps years away from her next television reinvention.
It is fitting then that Tina Fey's next appearance not only comes in film, but comes in Admission, a film about how the college admissions process halts a lifetime of strategic leapfrog into an unnerving stop, leaving one's future in anarchic uncertainty. Fey plays Portia Nathan, a Princeton admissions officer who revels in the university's selectivity, until she encounters an alternative style of education – and living — in John Pressman (Paul Rudd) and his gifted student, Jeremiah (Nat Wolff). Not only does Admission mirror Fey's own predicament, the film is obviously pertinent to current college hopefuls, ensuring adulation for Fey from this generation.
Yet, in interviewing Tina Fey, Paul Rudd, Nat Wolff, and director Paul Weitz, it quickly became clear that Admission is far more applicable to those about to leave college rather than to those hoping to enter. Just like thousands of college seniors, Fey, Rudd, and Weitz also fear endings and beginnings, try to balance passion and failure, and The Muse on "the secret to getting in," the advice envied by the students in Admssion. But in the midst of poignant discussion, dialogue avoided becoming too sentimental. After all, Liz Lemon and Brian Fantana were in the room.
"Do not go to Los Angeles," Fey said.
While a surprising piece of advice to hear from a TV superstar, Fey insisted that it is "the only advice I really ever give people."
Fey stressed that graduates need to "go where you can be on your feet and do more stuff … before you throw yourself whole-heartedly into the really business end of the business."
As such, Fey's advice to "not go to Los Angeles" has little to do with visiting the sunny city and is instead a declaration on passion. When Fey graduated with a drama degree, she averted New York and Los Angeles to instead go to Chicago, working odd jobs while exploring the improvisational stage troupes that saturate the city. Fey gained immeasurable experience, acting in countless sketches that honed her skills on smaller stages, in place of the menial labor in bigger theatres she would have found in LA.
Fey's early courage to choose allegiance to passion over prestige is important advice for graduates of all disciplines who are tempted by employments with big names that have little to offer. Admission has the same conviction, ultimately suggesting that there's more to life than the nametag that Princeton University promises.
Perhaps it is this parallel between Tina Fey's own philosophy and that of Admission that attracted her to the role. Perhaps Fey wanted to further enrich her adoring viewers with career advice. Or perhaps Fey took the role to prove the creed to herself as she navigates through this time of transition.
"Be your own judge," chimed in Weitz. "The big pitfall in life is giving over judgment to critics or box office or somebody who doesn't know you and doesn't give a damn about you."
Weitz's career has reflected this conviction; after directing the hugely successful American Pie and About a Boy, Weitz directed a series of critical flops, including American Dreamz, Little Fockers, Being Flynn.
"Only you know whether you've worked hard or not," he said, suggesting that success has to be measured not from a final product, but from the evolution from its inception.
Weitz's extension of this philosophy to Admission reveals his devotion to the dogma.
The question the film asks, he said, 'is [Princeton] a false god that they're worshipping?" Over the course of the film, the characters' definitions of success shift to quantify the term not by scores on standardized testing, but by the relationships that enrich and evolve the others.
"I personally don't think it matters where you go to college," Weitz said, adding that neither reputation nor the name of a school influences success post graduation.
"Who you come across while you're there … and the decisions you make" are vital to creating the network and personal reputation that will ensure professional success, he said.
Cut off by the moderator before offering his keys to success, Paul Rudd shared his advice for new graduates after the press conference completed.
"Persistence is the most important thing to remember," he said.
Appearing in practically every successful comedy made in the last decade, Rudd made his name in Hollywood by appearing in innumerable supporting roles, most famously in Anchorman and The 40 Year Old Virgin. New graduates can certainly connect with this need for patience. Internships and entry-level positions will follow graduation for years thereafter, tiring and demoralizing professionals who are waiting for their chance to shine.
Recently, however, Rudd has begun to earn starring roles, featuring in films like My Idiot Brother, This is 40, and Admission, arguably his biggest role to date. This increase in prominence is most definitely a credit to his persistence, years of hard work and waiting until his chance to star came along.
"There's no one way to make it," Rudd said. "Just figure out what you want to do, persist in it, and you'll make it."
As this advice from her peers swirled around the room, Tina Fey listened intently. Fey insisted that the ending of 30 Rock is "okay," but in her hiatus, she herself is now a new graduate and must face beginnings and endings, balance passion versus failure and attempt to rediscover a new "secret to getting in." But if anyone is qualified to translate sentimental advice into palpable and prodigious success, it's the woman who once sang about night cheese.