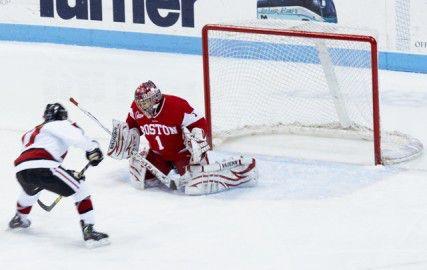 The No. 3 Boston University women's hockey team has plenty of accomplishments to boast already this season — a regular season Hockey East title, a Hockey East Conference Championship and the 150th win in program history.
But one more achievement remains to be attained: A national championship.
Advancing to the Frozen Four after defeating No. 6 Clarkson University last Saturday, BU (27-5-3, 18-2-1 Hockey East) will face No. 8 Mercyhurst University Friday evening in its quest to reach its second national championship game in three seasons.
"It's a fantastic accomplishment for all the young ladies involved," said BU coach Brian Durocher, who was recently named a nominee for AHCA Division One Coach of the Year. "Probably doubly exciting for the kids who are making their second trip here. For them to have gotten it done twice is a special event."
To punch its ticket to Minneapolis, BU beat Clarkson (28-10-0) in a nail-biting affair. The Terriers jumped out to a 4-1 lead midway through the third period, but Clarkson came roaring back to come within one goal with 4:40 remaining.
Freshman forward Sarah Lefort eventually added an empty-net goal with 59 seconds remaining to preserve the 5-3 victory, but Durocher said he was not pleased with the relaxed mentality that almost allowed Clarkson back in the game.
"There were times when we were playing real well, and then just kind of mentally check out or be a little bit casual," Durocher said. "Somebody [can] get an easy goal, and then somebody makes a great play or earns a great goal, that's fantastic. But for us to play casual, shame on us."
The Terriers will certainly need to bring forth their best effort as they face a tough test in Mercyhurst (29-6-1).
The Lakers upset No. 2 Cornell University in overtime last weekend, 4-3, to earn their third trip to the Frozen Four. Freshman Jenna Dingledein notched her 15th goal of the season 4:49 into overtime to lift the Lakers.
Mercyhurst has threats on both the offensive and defensive end, ranking third in goals per game and sixth in goals allowed per game in Division I. Forward Christine Bestland ranks fourth among all Division I women in terms of points scored, with 71 on the season, including 28 goals and 43 assists.
Durocher said he would be cautious of Bestland's offensive prowess, but not overly concerned, as BU has plenty of scoring threats of its own.
"The big thing for us is we have two lines that can play with the other teams' best," Durocher said. "I like to think we've got three sets of [defense] that can play against the top kids as well.
"We've got to know when she's on the ice, we've got to know exactly what number she's wearing, and not just assume she's the only part of the puzzle with Mercyhurst."
Other pieces of this threatening Mercyhurst puzzle include Dingledein, who has 43 points on the season, and her classmate Emily Janiga, who has sent 19 to the back of the net this year. The Lakers send in an average of 4.22 goals per game, which ranks behind only No. 1 University of Minnesota and No. 4 Boston College.
On the other end of the ice, Mercyhurst goaltender Stephanie Ciampa boasts a 20-1-0 record, with a save percentage of .935. Her goals against average of 1.44 is third-best in the nation.
But BU junior netminder Kerrin Sperry has been on a tear recently, stopping an average of 37 shots per contest in the past three games, including 34 against Clarkson. In her efforts, she earned two consecutive Hockey East Defensive Player of the Week nods.
"She's had a real solid and steady year this year, but it maybe didn't have the high points that her first couple years had," Durocher said of Sperry. "Certainly now is great timing, that the high point has come in the last four or five games.
"At this point you look at her statistics and they're right up in that level that I think she's been accustomed to, we've been accustomed to … great job by her to take care of business."
Should BU advance to the National Championship game, it will face the winner of the matchup between undefeated Minnesota (39-0-0) and conference rival BC (27-6-3, 17-2-2 Hockey East).
"It's a fantastic honor," Durocher said. "It's a place we've been once before, and anytime you can get back to those lofty standards, it's something that you have to relish.
"I've talked to a couple other people this week, and really made a point of mentioning that 3 of the 4 years with the Hockey East Championship … if you got one of them, you'd be pretty happy, but to get three of them, it's a real feather in the cap."