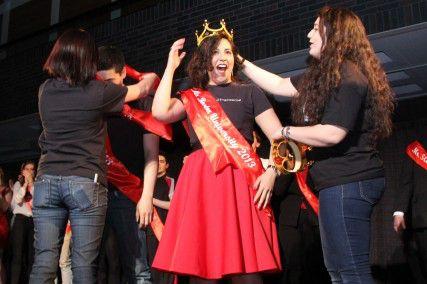 Mr. and Ms. Engineering Marvin Roxas and Ana Sofia Camacho, both College of Engineering seniors, were crowned Mr. and Ms. Boston University at the annual pageant Thursday night.
Roxas and Camacho were pitted against a Mr. and Ms. from each other college at BU in a competition including a fashion display and a talent show.
"I'm very humbled because this was a long journey with other amazing competitors — and with Ana Sofia," Roxas said after the event. "I'm trying to savor it — it's just so surreal and it's a great way to end my senior year. I will remember this forever."
Camacho said she was left in shock by the victory, but will not soon forget it.
"The best thing was just seeing all the people that supported us — that's all that matters," she said after the competition. "I'm just thankful for the support of all of my friends and to have the opportunity to represent a college I'm passionate about … This memory is the best way to end my senior year. I'm going to tell my grandchildren about this."
After meeting freshman year and becoming friends, the pair decided to enter the pageant together to bring the title of Mr. and Ms. BU back to ENG and change the common stereotype of engineering students, Camacho and Roxas said in an interview with The Daily Free Press. Contestants from ENG have not won the pageant since 2008.
"We really wanted to embrace engineering and the stereotype that we're nerdy and antisocial," Camacho said. "No, not everyone is that way, but we wanted to show you that we can be that and more."
Roxas said the win is a coup not only for the duo, but for the whole engineering community as well as the friends and family who helped the two prepare for the competition.
"It wasn't just us two winning — we were just the way that engineering could win," Roxas said. "It was all of engineering winning. We had friends and faculty who helped us shoot our videos and let us borrow lab coats and got us the dry ice [for our performance]. We couldn't have done it without them."
More than 260 students attended the pageant in Metcalf Hall, supporting contestants for the colleges with posters and buttons handed out by the Programming Council, which coordinates the annual event, said event manager Anna Stathopoulaos.
Members of the Liquid Fun Improv Comedy group acted as hosts, and all four judges were BU faculty or staff. The competition included a fashion show with three themes: 'Dress like your major,' spring break wear and famous celebrity couples.
After the fashion show, contestants participated in a game show segment and a talent show.
Contestants were judged on a number of criteria pertaining to each event, first-year judge Eddie Downes, a College of Communication professor, said.
"What I'm looking for is just pure talent, energy, excitement, and then there's some criteria we looked at relating to the theme of the event," Downes said.
Judges were asked to critique each contestant during the fashion show based on their interpretation of the theme, attitude on the stage and style, Downes said. For the talent show, the judges were asked to look for each contestant's energy, creativity and overall performance. The game show was judged on a point system based on how many questions each team answered correctly.
Despite the competitive nature, it was important for contestants to remember to have fun, second-year judge Wayne Snyder said.
"I like people who are just having a great time and displaying their interest in strutting their stuff for their fellow students," Snyder, a computer science professor and faculty-in-residence at BU, said. "I'm looking for talent and a sense of fun. We have so many talented students here at BU, I'd just love for them to get out there and show what they have and just enjoy themselves."
During the talent show portion, Camacho and Roxas performed a comedy tutorial on how to flirt with an engineering student, which led into a Latin dance and their own mix of Italian and English renditions of popular songs.
"The competition was a reminder of how much I appreciate my friends," Comacho said. "All of the contestants were awesome and just seeing the engineering community root for us and be out in the crowd and to hear them cheer — it's a great feeling. I'm just thankful for the support of all of my friends."