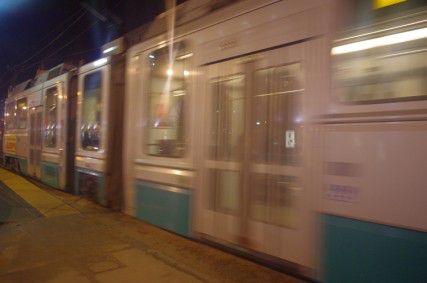 Despite overwhelming popular support for the Massachusetts Bay Transportation Authority to be open later, officials said they would not do so until they receive more funds from the governor's transportation plan in the coming months.
"We are interested in increasing hours, but right now we're just working on getting [the MBTA] funded as a whole, getting the legislation passed," said Kelly Smith, deputy press secretary for the MBTA.
Mass. Gov. Deval Patrick's  21st Century Transportation Plan calls for disbursement of over $13.7 billion to improve transportation infrastructure in the Commonwealth, with $3.2 billion going to the MBTA for maintenance repairs.
The MBTA Rider Oversight Committee gave the results of a survey about how many people were interested in a late-night transportation service to the MBTA on Mar. 18, Smith said.
About 25,800 people responded to the survey and 97 percent said they need a late-night transportation service, according to the MBTA After Hours Survey.
Patrick directed the MBTA to examine the possibility of late-night service and what the costs would be under his transportation plan, Smith said.
More than 8,000 people responded that they would be willing to pay up to $3.99 for a late night T ride and about 52 percent said they would wait 10 to 19 minutes for the T if the late-night service was available, stated the survey results.
Smith said the MBTA is considering improvements to its service, but that they need to focus on maintenance repairs and on reducing their large debt before other amenities could be introduced.
"Their [MBTA officials'] response wasn't surprising," said Reid Sprite, co-chair for the MBTA ROC. "They know people want late-night service, but it comes down to a dollars-and-cents issue."
Although the ROC is a separate committee from the MBTA, Sprite said the results will be beneficial for the MBTA in determining the feasibility of having late-night services.
If Patrick's plan is not passed, Smith said the MBTA will consider other options to raise funds, including increasing the T fare.
Robert Margo, a professor of economics at Boston University, said the MBTA could potentially lose money if it stays open later.
"The primary issue would be whether the increased revenues from keeping the T open later covered the incremental costs," he said. "These incremental costs would primarily be labor and energy costs in the short run."
Margo said the amount of college students who would use the late-night service would determine if the MBTA could afford to keep such service active.
Dilip Mookherjee, a professor of economics at BU, said from an economic standpoint, the late-night service might not be feasible, but there are many social and cultural benefits to offering the service.
"There could be significant social benefits in terms of reducing accidents, crime, driving in cars and resulting emissions, [and an] increase in restaurant revenues, which ought also to be factored in, but often doesn't in actual decision making," he said.
Some residents said a late-night MBTA service would enhance the nightlife of Boston and allow people to return home later from work and school.
"[Late-night service] allows you to do so much more in the city at night because if you don't have access to other forms of transportation you can't get around if you want to do something, especially if you're a college student," said Cameron Mattheson, a freshman at Northeastern University.
Mattheson said he would not support the MBTA's decision to increase fares during the day, but would support a higher fare for late-night travel.
Siddhartha Sharma, 25, an employee at Massachusetts General Hospital and resident of Brighton, said she supports later hours for the MBTA and is willing to pay more for such service.
"I already pay enough for the T to be honest, but it would still probably cheaper … compared to a cab," he said.
Sharma said the MBTA has many issues they need to fix before it offers later hours.
"The T should be focusing on the other issues," he said. "The amount of times it breaks down is inexcusable for a city like Boston, so they should focus on infrastructure, efficiency and then later hours."
Sophia Goldberg contributed to the reporting of this article.