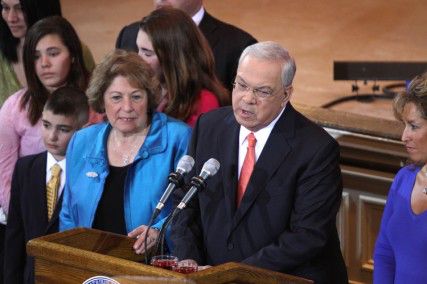 Walking down the aisle of Faneuil Hall to roaring applause and tear stricken faces with Frank Sinatra's "My Way" playing in the background, Boston Mayor Thomas Menino made his formal announcement Thursday that he would not run for reelection in November.
"I am here with the people I love, to tell the city I love, that I will leave the job that I love. I can run, I can win, and I can lead, but not 'in-the-neighborhoods-all-the-time' as I like," Menino said.
After several ailments landed him in the hospital for more than eight weeks, Menino said he was back on a mayor's schedule, but not his own schedule.
"I miss that," he said. "I miss hitting every event, ribbon cutting, new homeowner dinner, school play and chance meeting. Spending so much time in the neighborhoods gives me energy. Being with our residents builds our trust. It may not be the only way to lead Boston, but it's the only way for me."
Menino, 70, broke the news Wednesday night when The Boston Globe announced he would not seek a sixth term after 20 years as mayor.
"I will be very proud if I have changed our city in some ways that last," he said. "I do plan to stay very engaged in Boston's future. I am not retiring, but just turning the page on this chapter to the next."
The announcement brought many Massachusetts politicians to the area including Gov. Deval Patrick, U.S. Sen. William 'Mo' Cowan and U.S. Rep. Stephen Lynch.
Menino said he would not endorse any particular candidate to fill his position.
"I have no plans to pick the person to fill this seat," he said. "I just ask that you choose someone who loves this City as much as I have."
City Councilor John Connolly formally declared his candidacy Feb. 24 and Menino's announcement opens the door for other candidates to throw their name into the race.
Menino told reporters after the speech that he hopes the next mayor will understand the neighborhoods and what they need.
"I'm just grateful for the support that I've gotten over the past 20 years," he said. "[This is] not a final message."
U.S. Rep. Ed Markey said in a statement Thursday Menino had an unparalleled commitment to the neighborhoods of the city.
"Tom Menino is one of the greatest mayors in the country and in Boston's history," Markey said in the release. "I want to thank Mayor Menino for his 20 years of outstanding leadership, and I look forward to seeing what he has in store for us in the months ahead as he continues his legacy as a monumental and transformative figure in Boston history."
U.S. Sen. Elizabeth Warren said in a statement Thursday that he is an example of how a city should be governed.
"Tom Menino is the best. Period. He is the best mayor in America," she said. "I thank him for all he has done for the families of Boston over the last two decades and for the tremendous legacy he leaves for future generations of Bostonians."
Mark Ciommo, city councilor of Allston and Brighton, said Menino did the best job running the city and led it into a time of prosperity.
"He's going out on top of a long, great distinguished career as the mayor of our city. An absolutely better city than he inherited it and I am going to miss him because I've grown to love the man," Ciommo said. "He's a great man and a good friend."
He said Menino focused on important issues in the neighborhoods and many people will remember him for this.
"He's touched half the people in the city of Boston," he said. "I'm just proud to say that I was able to work with this man and accomplish and make our city a better place."
Some Boston residents said Menino will be missed because of everything he has done for this city.
"It's a sad day for the city. Mayor Menino has been an amazing mayor and we've had 20 years of prosperity and growth in the city and it's too bad that he's moving on," said Mimi Turchinetz , attorney and resident of Hyde Park.
Turchinetz said Menino successfully dealt with all issues of the city from education to healthcare.
"I think he has created a welcoming city for immigrants and has been aggressively supportive of choice and domestic partners," she said.
Kevin Kelly , 47, resident of Jamaica Plain and worker at Northern Contracting Corporation, said the number of people in Faneuil Hall to watch his announcement was a testament to the kind of person he is.
"He's done a great job in the city. He's been here for many years and people are out because this guy has done a great job," Kelly said.
Kelly said whoever fills Menino's position has a big job ahead of them.
"John [Connolly] is a great guy and he has a good reputation," he said. "There are other people that I'm hearing might be running, so I think it's going to be one hell of a race."
Melissa Adan contributed to the reporting of this article.