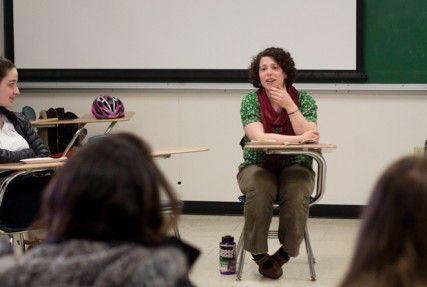 Liza Behrendt, an organizer for Jewish Voice for Peace Boston, spoke to Boston University students Wednesday night about the nonprofit, educational organization Taglit-Birthright Israel as part of Students for Justice in Palestine's Israel Apartheid Week.
Behrendt said the program, which is partially funded by the Israeli government and partially funded by outside organizations, and sponsors free trips to Israel for Jewish youth, is anti-Palestinian in nature.
"Birthright is an important institution for us to be talking about because of how powerful it is," she said. "It's just a massive institution that has a wide reach globally and has so many Jewish people. It's a real force on campuses because there are thousands of young Jewish people there."
About 15 people attended the open discussion in College of Arts and Sciences room 225.
Behrendt spoke about her personal experience on a Birthright trip in 2008, when Israel had just invaded Gaza as a part of Operation Cast Lead.
She said her tour guide was reluctant to answer questions about the Israeli-Palestinian conflict and made offensive remarks directed at Muslims in Israel.
While Behrendt said not all Birthright trips occur during a period of strife like hers did, they do affect participants' views of Israel.
"Many Birthright participants don't think of their experience as political," she said after the event. "They think that it's a fun time and that it's about their heritage. The fact that they don't relate their own heritage and relationship to Israel to the experience of Palestinians is a problem in itself."
Behrendt said Birthright is pro-Israeli in a way that is anti-Palestinian, and the overwhelming environment of the trip distracts participants from what is occurring in Israel.
"Birthright makes participants feel as if questioning Israel's policies is to question their own Jewishness," she said. "… In the experience it creates, it renders Palestinians and the Palestinian area invisible on the trip."
SJP member Kareem Chehayeb said he hopes Behrendt's testimony will help show students how Birthright distracts attendees from the situation in Israel and Palestine.
Cheheyab, a CAS senior, said Wednesday's dialogue was part of SJP's Israel Apartheid Week, an annual initiative that connects the oppression of Palestinians in Israel with the oppressions of South Africa during the era of apartheid.
"Humanities civil societies, NGOs and Palestinian groups on campus use this week to educate others about the oppressive nature of Israel towards the Palestinians and towards the Muslim groups in Israel," he said. "… We talk about a lot of issues going on in Palestine as a result of Israel's occupation and what their policies are doing."
BU Students for Israel Co-President Leora Kaufman said the main goal of Birthright trips is to bring Jewish people back to Israel.
"From what I'm aware of, it's not a political trip," Kaufman, a College of Communication and CAS sophomore, said. "I know that there are many trips to Israel — I'm not sure that they're free — but many trips to Israel that are focused on the politics."
CORRECTION: The article's headline initially stated a Palestinian activist spoke on the Birthright program. However, this information is incorrect. The article has been updated to reflect this correction. In addition, the article initially stated Leora Kaufman is president of BUSI. However, she is co-president, and the article has been updated to reflect this correction.